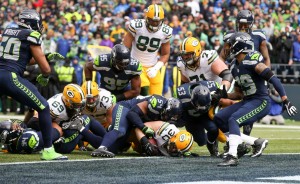 No Packers fan can be happy about the result in the NFC Championship, and no amount of press conferences or apologies from players will change that.
But with the Packers having cleared out their lockers and the Super Bowl just a few days away, it's worth taking a moment to review the things we learned about the defending champions in Seattle, and look ahead to the biggest football game of the year on Sunday.
Here's a few things the Patriots should learn from the Packers' effort at CenturyLink. For those keeping track at home, these are the kinds of trends and analyses that could be handy for the extensive prop bets on the NFL's Super Bowl here at TopBet.
Make Red Zone Trips Count
The Packers had several trips to the red zone in the first half, and criticisms of Mike McCarthy's fourth down play calling notwithstanding, the Packers simply didn't make their visits to the Seahawks goal line count. Given the way the Seahawks secondary can play, the Patriots need to score points when they get down the field, but that's easier said than done. Take the game's first points to be a field goal (+125).
Seahawks Struggle with False Starts
The Seahawks' offense has been the worst in the league at taking false start penalties all season long, and they shot themselves in the foot repeatedly against the Packers, even while playing at home. The Seahawks are favored to draw the first accepted penalty at -130, but they are also much more likely to take it under the bright lights.
Special Teams Prowess
It goes without saying that Seattle's special teams unit had an excellent day against the Packers, but they are also one of the best coached units in the NFL. It's easy to imagine their special teams, not to mention their vaunted defense, coming up with another score or two against New England. Take the Seahawks to score a special teams touchdown at a juicy +230.