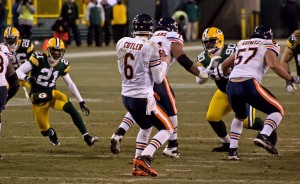 Great news for you Packers fans living in the Chicago region this year. This year there should be only two blackouts.
Technically these games are not being "blacked out" as this is not due to the Packers being able to sell out their home games, but instead are caused by conflicts in schedule with the Minnesota Vikings and TV network schedules. That said, this region is an unofficial secondary market for the Packers and the networks do show all the Packer games on TV they are allowed. To see the full schedule of all games which networks they will be on, check out http://506sports.com/nfl/.
The below is a listing of all 2015 Chicago Packer game blackouts per NFL TV rules:
Week 10: Sun., Nov 15 – Lions @ Packers noon on Fox but Bears @ Rams also noon on Fox.
Week 17: Sun., Jan 3 – Vikings @ Packers noon on Fox but Lions @ Bears also noon on Fox.
Also, check out the Packernet 2015 Packer Game Schedule for a schedule that now includes blackouts for the Chicago and Twin Cities regions.