The Green Bay Packers have had a run of success under general manager Ted Thompson but as we all know, only one championship with two Hall-of-Fame quarterbacks. We also all know about Thompson's refusal to address his team's needs by any other means than the NFL Draft. The question I want answered is why is Thompson like this?
While the Packers in 2017 will once again be Super Bowl contenders, and betting on them now at Spin Genie would probably get you favorable odds, but you would probably have better luck in their casino games than betting on Thompson signing a key free agent this offseason. As usual, those odds are slim.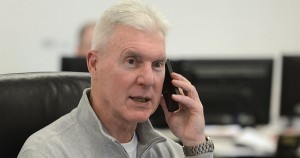 The first thing that comes to mind is he simply thinks he is better than everybody else and he can win doing it his way. But then we always hear the "it's hard to win in this league" excuse from him which makes it sound like making the playoffs every year is good enough. And when you think about it, you never hear Thompson talk about winning championships the way head coach Mike McCarthy does. Makes you wonder, maybe winning isn't the only thing with him.
If not that then maybe he has a fear that a free agent signing would screw up his salary structure and create havoc in the locker room. I can't see that happening, winning cures all and if a high-priced free agent came in and made the Packers better immediately he would be welcomed with open arms. Players want to win, plus if they see somebody get paid it means they might be the next one to get paid if they perform.
It can't be money stopping him. The Packers always have plenty of cap room because they mostly employ rookies, undrafted free agents or players with only a few year experience, hence, their salaries are bottom of the barrel. Yes, they have their core players with big salaries like Aaron Rodgers, Jordy Nelson, Clay Matthews, and Randall Cobb, etc., but the Packers usually are one of, if not the, youngest teams in the league. In other words, in over their heads in the playoffs.
As myself and recently Bob McGinn, have pointed out, status quo will not win another Super Bowl, it's time for Thompson to shit or get off the pot, and if he doesn't then team president Mark Murphy needs to put an end to this mediocrity and get rid of him. The only reason Thompson still has a job is because Rodgers' incredible play overshadows Thompson's mistakes, and there have been plenty lately, especially on the defensive side of the ball.
All in? We shall see.