It finally happened ladies and gentlemen, the 2017 NFL draft has officially concluded. As we all brace for the most painful 3 months of the NFL dead season, let's take a moment to get to know the newest Green Bay Packers. In an attempt to present something you've already seen dozens of times in a new way, we'll use 1 play to summarize each player drafted.
Kevin King: King of the Boundary
We've all seen this highlight at least a billion times. Part of me wanted to find a new clip so as to not not seem too boring or lazy but the more I think about it, there is no better representation of what Kevin King offers the Packers than this play.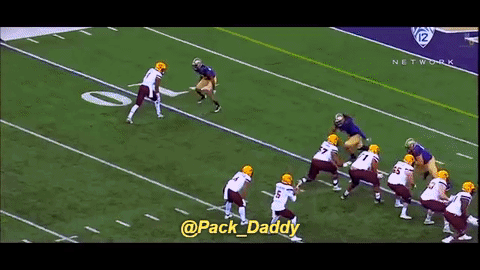 In 2016 , Kevin King allowed exactly 0 touchdowns. You know why? The guy is 6'3 and runs a 4.3 40. If you want to beat him you have a shot with underneath throws but beating him deep or trying to throw a fade in the endzone is going to result in a bad day for you. King is a monster on the outside and is exactly what the Packers needed.
With the addition of Davon House the Packers now have two big corners to handle outside duty which allows Gunter to strictly operate as the number three outside guy. The rest of the 5'11 corners are free to play toward the middle where athleticism is more important than raw size and power.
 Josh Jones: The Ballistic Missile
To me, the Josh Jones pick was the epitome of a Ted Thompson pick. You're texting your friends back and forth wondering who the pick will be. Roughly 45 names have been batted back and forth on top of the 10 or so the gentleman on TV list as the best remaining. The reaction following the pick is, "A safety? Why a safety? ….And who is Josh Jones??"
But as time goes on and you watch the player, it becomes clear why Jones was drafted and you start to wonder why the guy wasn't in the first round conversation. As far as why a safety, for those wondering, Jones isn't a depth pick. The Packers employ a ton of 3 safety looks in their dime package in which Burnett lines up as a linebacker. With Hyde gone, Kentrell Brice is now the third safety. No disrespect to Brice but this was a need pick, not a luxury one.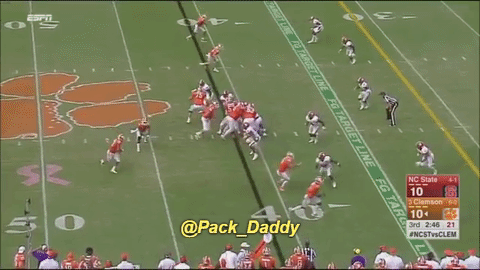 I don't mean to imply with the clip that Jones can't cover but the thing that excites me about Jones is what you see above. He is a heat seeking missile that destroys his target on impact. With his 4.41 speed, Jones can close with lightning quickness. Add in that he's 220 pounds and the guy is a wrecking ball.
We don't yet know how the roster will shake out but if you were to ask me how I would do it, Jones would take over for Morgan Burnett in the dime situation, playing as the inside linebacker. His range and power would make any attempt to throw underneath a waste and would also allow Ha Ha and Burnett to rove over the top. It gets me excited just thinking about it.
Montravius Adams: Mount Travius
The Packers top brass made the comment that they were shocked to see Adams available when they were picking which tells me they feel they got a steal. I tend to agree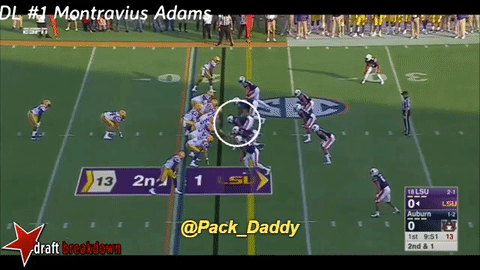 I love the video above because it represents two things about the player that I think are important. The first is his elite speed and athleticism that allows him to get up field and fast. Of all the 300 plus pound defensive lineman, only 4 were able to run the 40 in under 5.00 seconds.
Eddie Vanderdoes: 4.99
Larry Ogunjobi: 4.98
Charles Walker: 4.96
Montravius Adams: 4.88
It's really not even close. The Packers love athleticism and they got perhaps the best combination of size and speed in the defensive lineman class.
The second thing I love about the video is it highlights his ability to make plays. It sounds like boring analysis but so many defensive lineman have the strength to push people around but when it comes time to bring down the runner or quarterback, they fall short. They can't disengage the blocker, wrap up the runner, and make a play. Adams is fantastic at not only winning the point of attack but moving the blocker out of the way and making the play when it counts.
Vince Biegel: Clay Jr.
Bottom line, Vince Biegel is Clay Matthews. I'm not sure why Clay Matthews' value is now worth a 4th round pick but let's just look at this real quick.
Vince: 6'3 246, 4.67 40, 21 bench, 33.5 vert, 118 broad, 6.92 3 cone
0.33 sacks per game in senior year (4 in 12 games)
Clay:  6'3 240, 4.67 40, 23 bench, 35.5 vert, 121 broad, 6.90 3 cone
0.35 sacks per game in senior year (4.5 in 13 games)
They are the exact same person. Add to the fact that they both have a high motor, maximum effort, and glorious hair… I'm telling you, same person.
Here's your clip, enjoy.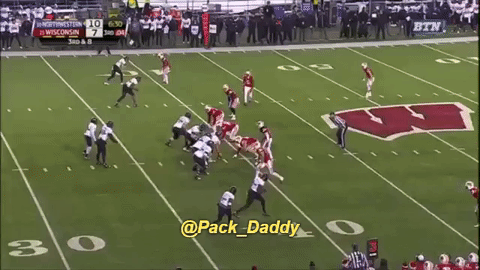 Jamaal Williams: The Brawler
I love Ty Montgomery but the one thing that is clearly lacking with the loss of Eddie Lacy is a bruiser. The Packers went out and got three. We'll see who makes the final roster but the idea of the Packers being able to pound defenses over and over and over with a stable of thumpers has to get you excited.
None are more exciting than Jamaal Williams who is an absolute brawler that looks for contact. He put it this way.
"I like to bruise and pound people a lot. I feel like I'm a grinder, a workhorse. As the game gets in the third and fourth quarter, I'm getting stronger and stronger and trying to wear defenses down. That's how I like to play but at the same time I feel like I have the ability to make big runs and get to the end zone anytime too."
Have you ever seen something so awesome it gave you chills and the chills were so intense your eyes watered a little? I found the little doozy below and that was exactly what happened to me. Notice at the end how he waves at the tackler to come get him and runs into the contact. It's the 4th quarter by the way. I really really like this guy.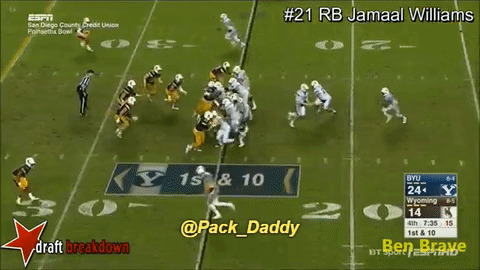 DeAngelo Yancey: The Golden Eagle
A guy that runs a 4.53 40 time but manages to rack up 19.4 yards per carry is unusual. In Yancey case, being 6'2 220 pounds, you might assume he gets a lot of yards after the catch. Watching the guy play, however, it seems all his big plays are down the field where he manages to get behind the DB's.
The Packers mentioned he plays much faster than his 40 and that certainly seems to be the case.
Aaron Jones: The Bullet Ant
Aaron Jones as compared to Jamaal Williams is the small shifty guy of the bunch. Don't let that fool you, the guy is a banger. Yes he's 5'9. Ask me if I care.
Again, we'll see how the final roster shakes out but winning in the 4th quarter just got a lot easier.
Kofi Amichia: The Bull
The Packers drafted an offensive tackle in the middle rounds who will be converted to guard. The only question left is, how long before he goes to the pro bowl?
Amichia having played tackle has the athleticism to pull and get to the next level in the NFL but is, at heart, a mauler.
Below, Amichia is the left tackle number 75.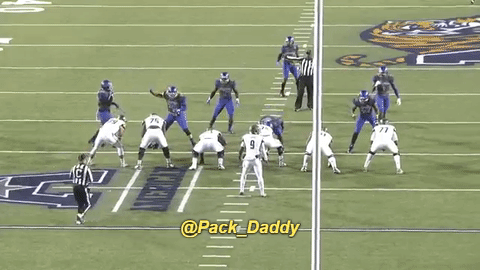 The AAC isn't the toughest conference in the country but Amichia dominated everyone in front of him. I'm excited about him, especially since, at this point in time, he's depth.
Devante Mays: Pinball Wizard
Our third and final banger is Eddie Lacy reincarnate. At 5'11, 230 pounds, Mays is dimensionally the same player.
To make things sweeter, Mays ran a 4.5 40 (Lacy ran it in 4.64) and has a 420 pound bench press (22 reps at 225) which drew some comparisons to 3rd round pick, D'Onta Foreman.
The big concern with Mays is his 1 full year playing running back followed by an injury that kept him out of most of his senior year. The small sample size and injury concerns likely dropped him to the 7th. Outside of that, Mays was a 3rd round pick this year.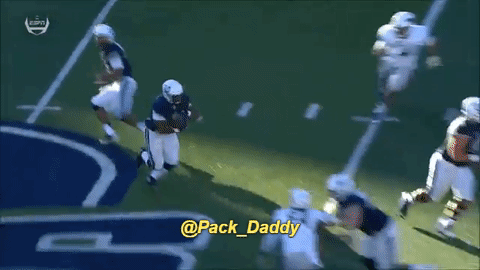 Malachi Dupre: Cinderella Man
Hopefully Dupre never finds out the name I gave him but it works. Like the movie, Dupre was once considered one of the best but inexplicable (in my mind anyway) fell to the 7th round. The name is also a compliment because it implies that I expect him to rise to the top once again…. I'm sorry Malachi.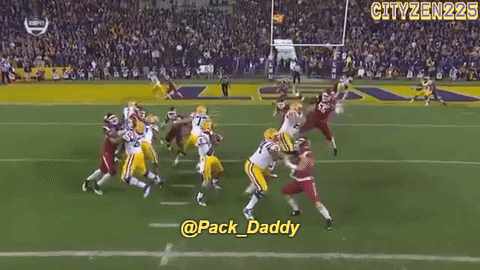 It's hard to see what's happening above but it appears to be a ball that hits the intended receiver in the leg and Dupre catches the deflection.
It seems like a weird highlight but my take away from Dupre is that his strength is his ability to make the plays in front of him. He isn't super tall, he's less than 200 pounds, he ran a 4.52, and thanks to a poor quarterback, his stats aren't fantastic.
Still, when the ball is in the air, my money is on Dupre. His ability to adjust and make the play no matter the situation has to get you excited, especially for a receiver that will have Mr. Improvisation, Aaron Rodgers, as his quarterback.
Similar to Geronimo Allison, there is nothing about him that makes you think he would make a good receiver, yet whenever he was on the field he just seemed to make plays. That's how I see Dupre as a Packer.