Several months ago I wrote an article that took a look at the Green Bay Packers roster and answered the question, "What does a prototypical Packers player look like at each position?" It was a fun exercise but the larger point was to try and better understand what types of college players the Packers may be interested in drafting in 2017. To see the article, click here.
Now that the draft is completed, it only makes sense to go back and see all the new additions to the team, not just drafted players but undrafted, and see how they stack up to the "norm".
Another reason the article might be helpful is to look at how the new crop is different than the norm. Perhaps if will give us a look at the direction the Packers plan to take the team.
As a final note, there are a ton of different sources online. They all list different weights, heights, and 40 times. These guys are magical in their ability to shape shift over time. I did my best to find multiple sources and make reliable judgement as to their actual size and speed.
Quarterback
The Packers are set at the position as long as Aaron Rodgers has at least 1 good leg to stand on. Still, the Packers seem to like to take swings at the position, especially with undrafted guys, and have had modest success doing so (Matt Flynn). 2017 was no exception as the Packers "reloaded" with a 4th quarterback on the roster, Taysom Hill.
As for the prototype, I felt 6'2 224-pounds was a good fit. The 40 yard dash I set in the 4.7 range.
Taysom Hill
Taysom Hill was signed by the Packers as an undrafted free agent. Hill actually fits the prototype pretty well from a dimensional standpoint at 6'2 220-pounds.
What separates him is his 4.46 speed. Let me say that again… 4.46 seconds to run 40 yards. For those that aren't aware, that's fast. To put that into perspective, the previous fastest quarterback on the Packers was Brett Hundley. He ran the 40 in 4.63 seconds. The fastest quarterback playing in the NFL right now is Marcus Mariota. He ran a 4.5.
Make no mistake, if Hill is playing during the regular season, there is nothing to get excited about but you should at least be a little pumped to watch the guy play in the preseason.
Wide Receiver
Prior to the draft there seemed to be a pretty obvious prototype for wide receivers in Green Bay. 3 of the 6 receivers are 6'3 (Nelson, Janis, Allison), and 3 of the 6 are in the 217 range (Nelson, Adams, Janis). The 40 times were a little more all over the place but nothing really on the fringes so I used a rough average at 4.46.
As we'll see, the Packers felt the need to branch out a bit from that model
DeAngelo Yancey
At 6'2 201-pounds running a 4.53, Yancey is a little shorter, smaller and slower than the prototypical Packers receiver.  A decent comp already on the roster is Geronimo Allison who is similar in height and weight but ran a lot slower (4.67).
At first glance it seems as if there isn't much to be excited about but to take a guy that has less desirable attributes in all three areas tells me they just like the way the guy plays ball.
That said, I would be surprised if they didn't ask him to pack on a little muscle.
Malachi Dupre
After drafting Dupre it's not hard to make a case that there is something in the DeAngelo Yancey prototype because Dupre and Yancey are the same guy. Dupre measured in at 6'2 196-pounds and ran a 4.52. Nearly identical to Yancey.
The comp is obviously Allison. The way Allison came on in 2016 it isn't farfetched to think the Packers may want to find another one. He was pretty dominant down the stretch.
Michael Clark
To counter the above point, we have Michael Clark. The guy that shatters any possible norms your team might have. At 6'6 217-pounds, running a 4.53, Clark not only doesn't fit the mold, he broke it.
At a later time, I'm planning to look at all these guys more in depth but do I really need to tell you what makes him appealing?
Montay Crockett
If Clark wasn't enough to prove the Packers aren't entirely ridged, Ted Thompson goes in the exact opposite direction with Crockett. He measured out at 5'11 190 running a 4.39 at his pro day (ran a 4.25 at his regional combine).
As far as comps, Cobb is the only one in the ballpark at 5'10 190-pounds. Cobb obviously isn't that fast but 4.46 isn't sleeping.
Once again, it's obvious to see what Crockett's premier attribute is. If he really does have 4.25 speed, Crockett will be the fastest guy on the team and by a lot. Although the wide receiver room is crowded, it'll be interesting to see what he can do on special teams. Hey, Janis made a career out of it.
Running Back
The backs I broke down into two groups after noticing the Packers seemed to like a particular pairing, first with Lacy and Starks, and later with Montgomery and Michael.
The two groups I called the short and stouts (Lacy, Michael) who were around 5'11 225-pounds and ran in the 4.6 range. Next were the tall and slims (Montgomery, Starks) who are around 6'2 217 pounds and run around a 4.5.
Of the 2017 group, the Packers clearly went in a different direction. That is except for 1 player.
Jamaal WIlliams
Nope, it's not Williams. At 6'0 212-pounds, Williams is seemingly in a category of his own. Williams completed the 40 in 4.59 seconds putting him more toward the short and stout group. Considering the way he runs, I'm not upset with the idea of putting him there.
As far as comps, I'd say he most closely resembles Ty Montgomery but again, the guy is in his own category. Maybe I'll just start a group called the brawlers and lump the whole draft class in it.
Aaron Jones
1 of 2 5'9 football players, Jones weighed in at 208 pounds and ran a 4.56. Don't let the height and weight fool you though, Jones is a thumper. Just think back to Maurice Jones-Drew if you're having trouble picturing what a short light running back breaking skulls looks like.
Drew did run a lot faster but was 2 inches shorter so we'll call it even. Since the Packers don't have anyone near that size to compare, we'll say Aaron Jones is the Packers version of MJD.
Devante Mays
The man we've all been waiting for, Devante Mays does actually fit into a group, the short and stouts. In fact, Mays is the spitting image of the recently departed Eddie Lacy. At 5'11 230 pounds, the only real difference between the two is Mays' 4.52 40 time, the fastest of any current Packers running back.
Yes, Mays is now the biggest (heaviest) and fastest back on the team.
Kalif Phillips
The 2nd of 2 5'9 running backs, Phillips carries a little more bulk than Jones at 218-pounds. The big negative on Kalif, and probably partly the reason he went undrafted, was his 4.66 speed. Eddie Lacy might get a pass running that slow but at 5'9 218, you gotta have a little more speed.
And yes, although "hard to bring down" is a better description that "thumper" for Phillips, the guy plays like he's 225 pounds.
William Stanback
If you've ever watched the guys above play, you would think I was out of my mind if I said Stanback was possibly the most violent of the group but it could very well be true. Although I tend to like Jamaal Williams fist fight type of style, Stanback is just a pure wrecking ball.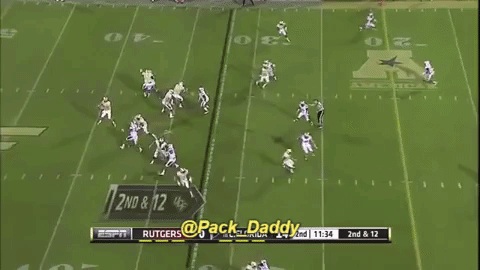 As I said, I'll be doing more of this later but how could I not. That guy is now a Packer. Let it sink in for a moment.
Alright back to what we came here for. At 6'0 233-pounds running a 4.55, Stanback is as tall as Jamaal Williams, as big as Eddie Lacy, and as fast as Ty Montgomery. Let's all hope things work out with Mr. Stanback.
Tight End
For the standard here I went with Cook, Rodgers, and Perillo. They didn't draft Cook and he's a bit of a freak but aside from Cook's 4.49 speed, the three actually were pretty consistent with one another.
For the prototype, I had 6'4 253-pounds, running a 4.7
Aaron Peck
The 40 time with Peck is close but he's clearly a different kind of guy. At 6'2 239 running a 4.68, Peck, at least on the surface, gives the impression of a fat slow wide receiver.
Fortunately that isn't the case and strangely, if you watch him play, he looks like the biggest guy on the field. He certainly plays like it.
As far as being able to learn from it, it's hard to say. There is definitely a trend in the NFL for those TE/WR hybrid type players. Peck could possibly be a TE that plays more time off the line than on it.
Guard
One of the bigger needs for the team, the Packers have three undrafted players that could possibly help out. I concluded that a typical guard is 6'4 315-pounds and runs a 5.15 40. I also threw in bench press for some of the bigger guys and found the Packers guards put up 32 bench reps.
Thomas Evans
Evans is only 6'3 but at guard, it's not the worst thing. It just means he probably wont be spending any time at tackle when the injury bug bites. At 305 he's a little lean but is in line with Barclay and is only about 10 pounds off from Lang. His bench was also a little low at 27 reps but his 40 time was right on the money at 5.15.
Geoff Gray
Gray is on the money at 315 pounds but unlike Evans is a little tall at 6'5. His 40 was really lagging at 5.34 and he had the lowest bench of the group at 25.
Still, despite the less than perfect measurables, Gray has received a good amount of attention since signing with the Packers. In part, it's due to his journey through Canadian football but there seems to be some real optimism about him. We shall see.
Adam Pankey
The big man of the group, Pankey is actually a lot like Lane Taylor. Ya I know, he's not in your top 5 list of favorite Packers, but he's a starter. I'm saying there's a chance!
At 6'5 324-pounds, Pankey is the biggest of any current Packers guard. His 28 bench reps are short of the norm for Green Bay but it's still plenty impressive. His 40, for those keeping score, was 5.31.
Center
For the center group, I really only had Linsley to work with at the time so he was the guy. With that I put the average Packer at 6'5 307. I also put the bench at 36 reps.
Kofi Amichia
I understand conventional wisdom says Amichia is a guard all day, and I tend to agree but NFL.com lists his draft profile as a center and Ourlads lists him as a center on the Packers depth chart. They do need the depth. Besides, I had enough guards to talk about.
It's been a while since one of these guys actually matched my little prototype system but Amichia is close. At 6'3 298, and putting up 32 reps on the bench, Amichia might be the only guy in the entire draft class to match up to Linsley.
Defensive Interior
I struggled with how to do this quite a bit because they are a lot of blurred lines along the defensive interior. A NT can be a DT, a DT can be a DE, a DE can be an OLB, and so on all the way to the water boy. With that, I did my own sort of mix and match and build the perfect Packers interior lineman.
The mythical man stands at 6'2 and weighs 308 pounds running a 40 in 5 seconds flat and is able to do 29 reps on the bench. Basically is a slightly shorter Kenny Clark.
Montravious Adams
Montravious doesn't quite fit perfectly but only because he's taller (6'4) and is an absolute freak in the speed category (4.87). Not really anything we should lose sleep over. His bench reps were also pretty low at 22 but his weight at 308 is pretty spot on.
Physically Adams looks identical to Letroy Guion but with Mike Daniels speed. I'm jacked to watch this man play football.
Izaah Lunsford
Lunsford is my guy. It actually feels kinda good to call out a prototype and see the Packers snag someone that fits the mold. Almost like I cracked the code. It works even better when you ignore the majority of guys I got wrong.
Lunsford measures at 6'3 310, runs a 5.13, and put up 28 reps.
Edge Rusher
With the exception of Peppers who they didn't draft, and Datone who they drafted as a DE, the only guy on the squad that isn't 6'3 is Kyler Fackrell at 6'5. Similarly, if you eliminate the same two guys, the only one not in the 240 range is Nick Perry. With that, I'm looking for a guy that's 6'3 242 pounds and runs a 4.7 40
Vince Biegel
Vince is 6'3 246, and ran a 4.67. I absolutely nailed it here and I couldn't be more upset. In my previous articles about the Packer prototype I picked Josh Carraway and Carroll Phillips. I had a Badger that fit the mold perfectly and took those guys. So close.
I laid it out in more detail here but in all reality, Biegel fits the mold of Clay Matthews absolutely perfectly. I'm not sure why Matthews isn't a 1st round pick anymore but height, weight, all the measurables at the combine, even years played and stats line up pretty perfectly.
Let's hope he can live up to that. Injury aside, I'm excited to watch him play.
Johnathan Calvin
I'm sort of going on a limb with Calvin as he's listed at DE on Ourlads and as an ILB on PFF but at 6'3 266, he's much bigger than the average ILB (6'2 235), and is too small to be a 3-4 DE, the smallest being Dean Lowry at 296. With that I felt his more natural position would be at OLB. His 4.89 speed doesn't exactly help make my case but Datone Jones ran a 4.8 and he was still moved to his "more natural" position.
Even at OLB Calvin isn't the norm as there aren't any players in the 260's. The closest would be Nick Perry at 6'3 271. Again, his speed is much slower than Perry's but he's an undrafted player. I still think OLB makes the most sense. He could be used as edge setter like Perry or even as a down lineman in one of Capers' NASCAR packages.
Josh Letuligasenoa
Another guy that's hard to figure out, Letuligasenoa's 6'1 height and 21 bench reps seem to fit the ILB mold. His weight of 252-pounds fits best as an OLB, but his 40 time of 4.94 puts him in the defensive line category.
Ultimately, I settled on OLB due to his experience as a pass rushing defensive end in college. It'll be interesting to see how the Packers plan to use him.
Inside Linebacker
Ryan, Martinez, and Thomas are actually all pretty similar so I felt good about going with a prototype here. 6'2 235-pounds, running a 4.68 is a pretty close comp to all three. So that's where we are.
Cody Heiman
Heiman is listed as a FB/ILB. Forgive me if I'm skeptical of the Packers desire to add another fullback to the group.
In terms of his fit, I can't say he's a "typical" Packers linebacker but it's not hard to see what the Packers like about him.
At 6'1 229, Heiman looks more like a wide receiver than a linebacker. A wide receiver, or maybe…. a safety? Heiman doesn't really fit in with the base 3-4 ILB's that Capers and McCarthy like but in the nickle and dime, when a safety is brought in to play the role, Heiman fits in perfect.
He's a natural hybrid, running a 4.63 (faster than all 2016 ILB's) but putting up 31 reps on the bench (more than any defensive lineman). His mix of raw power and speed are exactly what the Packers want at the position.
Heiman is another guy I have highlighted.
David Talley
Talley fits the Blake and Jake mold quite well dimensionally at 6'1, 236-pounds. His upside, like Heiman is his speed. Running a 4.51 40, Talley is running at cornerback speed (4.57).
All the tools are there for Talley to be the 4 down player the Packers love. Let's all cross our fingers Talley can play at the NFL level.
Cornerback
When I started this project a few months back I was sort of perplexed to see the norm for Packers corners. I understand the mentality that good football players are good football players, who cares how tall they are, but 4 of 6 corners were 5'11 or shorter. 5 of 6 are under 200-pounds.
Whatever the reason, the typical Packers corner was 5'11 195-pounds running a 4.57 in 2016. The 2017 draft class, as we will see, is going in a taller and faster direction.
Kevin King
Case in point, Kevin King. At the time of his drafting, King was the tallest corner on the team at 6'3, the second fastest behind Josh Hawkins running a 4.43, and the second heaviest behind LaDarius Gunter at 200 pounds. Overall, King is now the best the Packers have to offer at the corner position in terms of size and speed.
It was a predictable change of direction. Big physical corners to play the boundary to take on Dez Bryant style players has been the cry of fans all year long.
Donatello Brown
Brown is the 2nd of 3, 6 foot plus players, measuring in at 6'0, 192-pounds, running a 4.43 40. The 40 time comes from the mouth of Brown himself talking about his speed at his Junior Pro Day.
Lenzy Pipkins
The 3rd of 3, Pipkins, is right in line with Donatello Brown, measuring in at 6'0 196-pounds, running a 4.46. Although he does cross the 6 foot barrier, his best comp is Damarious Randall who is an inch shorter at 5'11, but is also 196 and ran a 4.46.
The benefit of (slightly) bigger 6 foot players that also have Randall speed is their versatility. It isn't an automatic but the basic tools seem to be there to both play boundary and slot positions.
It's that exact versatility that guys like Pipkins and Brown will need to display to be able to make the roster.
Raysean Pringle
He just couldn't help himself. At 5'11 191-pounds, running a 4.42 40, Ted Thompson was able to squeeze in just 1 more 5'11 guy to the roster. He even converted a WR/RB in order to make it happen. Whatever it takes eh, Teddy?
Hopefully the brilliant Packers staff was able to identify a guy that's been miscast at the wrong position for his entire career in Pringle but in reality, his biggest asset and quickest route to a roster spot will be special teams. He has the speed and allusiveness to have a real shot but it won't be easy.
Overall the corners are bigger and faster but the takeaway between the two in my eyes in clearly the speed. Size is more a matter of function. The big guys play on the boundary and with a lack of talent on the boundary the Packers felt compelled to draft guys that can play outside. It's not a preference, it's a different position, so to speak.
The speed, however, is a direction. A 4.46 40 was the slowest of the 4 corners. That's a sign as clear as day from the Packers that they want to be faster.
Safety
The final group is safety. I looked at 4 safeties but ultimately there were two types of safeties, the big guys and the little guys. Since the two big guys were the starters I didn't think it would makes sense to average it out. Firstly, because it would create a player that doesn't exist anywhere among the safeties but secondly because it makes more sense to look at the starters and assume this is what works and what the Packers will likely be looking for.
With that I took HHCD and Burnett as the standard and found 6'1 208-pounds, running a 4.40 40 to be the sweet spot.
Josh Jones
The talk of the draft up to this point has been Josh Jones. Sort of strange considering his position. I see the potential and I'm real excited about him but to say he will play more snaps in 2017 than Kevin King seems silly. Where exactly does Jones play in base? Does he beat out Burnett or Clinton-Dix?  Will he line up as a boundary corner? Does he play linebacker in base? If the answer to these is no, which it is, then we have to assume Jones will be off the field for at least a third of all defensive snaps. If King plays less than Jones we are in big trouble.
Jones has a role and it's an important one but for some reason when excitement gets stoked it turns into a full-blown forest fire real quick. Let's all just pump the brakes.
He's my last guy so I had to rant a little bit.
At 6'1 220-pounds, running a 4.41, Jones nearly hit the standard right on the head but carries a lot more weight. The weight is to his advantage considering the amount of snaps he'll be playing at linebacker (Joe Thomas is 227).
Conclusion
If there is any takeaway from the entire exercise it's that the Packers covet speed. This isn't new news. We've been hearing since Colin Kaepernick broke the record for most quarterback rushing yards in a single game against the Packers back in 2013.
To their credit, the Packers have gotten much better against mobile quarterbacks. If they have similar success fixing the pass defense, there's nothing stopping the Packers from yet another Super Bowl title.