Last year it was the secondary. The Green Bay Packers were hit hard by injuries and poor play and it all came to embarrassing head in the NFC Championship Game. When your top corner is LaDarius Gunter, you have problems. While Gunter had his moments and did help the Packers win eight games in a row, he's not really even a starter in the NFL.
The Packers have shored up the secondary this year with the signing of Davon House and drafting Kevin King and Josh Jones. The question mark now is outside linebacker. Starters Clay Matthews and Nick Perry return, Perry with a huge new contract. The problem is, neither one of them are capable of playing 16 games and the guys behind him are borderline terrible.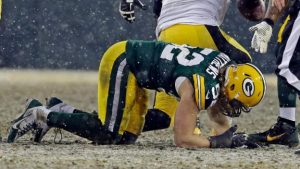 According to script, both Matthews and Perry were hurt Saturday night in Denver. Oddly, the Packers won't even say what happened to Matthews. That is always a sign it is more serious than they think it is. Either way the Packers are looking at opening the season against Russell Wilson and the Seattle Seahawks with two wounded pass rushers in what is supposed to be a Super Bowl year for the Packers.
Behind Matthews and Perry are Kyler Fackrell and Jayrone Elliott, both of who have had dreadful training camps. As a result the Packers brought in 33-year old Ahmad Brooks in for a visit today. Brooks was recently released by the 49ers. The Packers could use a Brooks-type player in the room since losing Julius Peppers in free agency.
If the Packers are going to stay atop the Super Bowl odds at betting sites, they are going to need to make sure outside linebacker does not turn into last season's secondary. I have my doubts. When healthy both Matthews and Perry are among the best in the league, but healthy is a big if.
I think this position could be the Packer death knell this year. Might be up to general manager Ted Thompson to outside the box and make a move to shore this position up as soon as possible. Brooks would be a start, but  I'm don't think that is even enough of a help.
The season hasn't even started and what I thought was going to be a cakewalk is already in jeopardy. Time to win now. Last year at this time, the secondary looked OK, this year it's different, the weakness is glaring. Will Thompson make a move? The season might depend on it.