The Green Bay Packers got off to an excellent start to their 2017 season with a 17-9 win over the Seattle Seahawks. The Seahawks were regarded by many pundits as the likely NFC representative in the Super Bowl in February. The way the Packers' defense manhandled the Seahawks offense, they might want to rethink that prediction.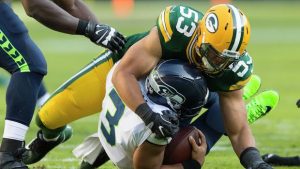 Led by defensive tackle Mike Daniels the Packers' defense dominated the Seahawks. It was a complete domination of what might be the poorest offensive line in the NFL. Seahawks' quarterback Russell Wilson is going to be lucky to make it through the season. The Packers' defense is improved, but I don't think you can put too much stock in yesterday's game. The Packers simply have the Seahawks number, especially in Lambeau.
The Packers' offense didn't score a lot of points but they did control the game, as the almost 20 minute time of possession advantage would attest. Seattle is probably the best defense the Packers will face all year, so to be able to move the ball like they did is a good sign. With 6:18 left in the game and an 8-point lead, the Packers ran out the clock. Even overcoming a 15-yard personal foul penalty on Martellus Bennett. I wonder if that has ever happened under Pete Carroll.
The Packers can take control of the NFC next week if they can beat the Falcons in Atlanta. To start 2-0 with wins over two of the three best teams in the conference would be huge. The Packers' will certainly be tested on defense in Atlanta. On offense the Packers will be looking to show last year's NFC Championship game was a fluke. Ought to be a barn burner.
I know how I'm leaning on this game but more on that later. Still basking in the glory of beating the despised Seahawks.