The Green Bay Packers have won three straight and in those games some young players on offense have been the key. I think the biggest young star so far is wide receiver Davante Adams. It seems like he has surpassed Jordy Nelson as the Packers' number one receiver. If not, it's definitely 1A and 1B.
With Adams emergence the last two years the Packers have to feel pretty good about the weapons they have given all-world quarterback Aaron Rodgers. Certainly sports betting odds for the Packers will be changing if Adams keeps it up. The Packers are clearly among the favorites now to represent the NFC in the Super Bowl.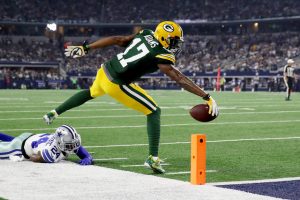 Adams emergence could not be happening at a better time, too. Nelson is no spring chicken anymore and is in his second year back after a major knee injury. He came on strong at the end of last year and didn't really play in the preseason this year, so he may do the same again. But health is an issue, time catches up to everyone, even Jordy.
Another reason the Packers' are fortunate to have Adams play like this is that it brings Randall Cobb back into the mix. Cobb is a great slot man and with Adams and Nelson outside, it has opened things up for Cobb again. Cobb has had four or more receptions in every game he has played this year. Last year it seemed he disappeared at times, even when he wasn't injured.
The Packers have a three-headed monster at receiver, two top tight ends and the best quarterback in the league. If running back Aaron Jones can help take some pressure off the passing game, this is going to be a tough team to outscore. I have some thoughts on the Packers' defense, but that can wait for another day.