I'm guessing the Green Bay Packers did not enjoy their bye week the way the envisioned they would at the beginning of the season. They were probably thinking 6-1 or so, first place in the division, a week off and then back to the task of winning a Super Bowl. My how things can change in the NFL.
The reality is the Packers have lost two games in a row, lost quarterback Aaron Rodgers for at least eight weeks, and are trailing the Vikings by a game-and-a-half in the division. The Packers will face Detroit in a battle of teams heading in the same direction. The Lions have lost three in a row. Oddly, NFL football odds for Packers vs Lions game have the Lions favored by three points.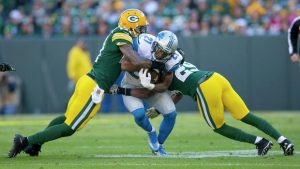 The Packers will be playing their second complete game without Rodgers and need to play better in all facets if they are going to win without him. They are coming off a game in which they gave up 465 yards to the New Orleans Saints. Monday they face an offense that put of 482 yards against the Steelers last night. Amazingly they could only muster five field goals.
The Packers aren't going to win many games giving up yardage like that, especially with an offense basically starting from scratch with a new quarterback. I believe the Packers offense will be better against the Lions, but still don't think they can get into a shootout. The Packers need the defense to help them out a little.
Maybe defensive coordinator Dom Capers can come up with something like he did a few years ago when he moved outside linebacker Clay Matthews to inside linebacker. That move sparked the defense and and helped catapult the Packers to the NFC Championship game. What happened there won't be discussed anymore, but the defense hasn't been the same since.
I am still excited to see how this season plays out. We are going to find out for sure if Mike McCarthy is indeed "a highly successful NFL coach", as he self-glossed himself last year. If the Packers continue to lose general manager Ted Thompson may have to make one more hire before he retires. Or maybe they clean house all-together. But we'll worry about that if it happens. Let's just beat the Lions for now.