The Green Bay Packers got a much needed win yesterday that included solid efforts on both sides of the ball. On offense the Packers had incredible balance, 182 passing yards and 160 rushing yards. The defense held the Bears to just 55 yards rushing and 323 total yards. Unfortunately, special teams is still a work in progress.
The Packers 23-16 victory was also the first post Aaron Rodgers win. Quarterback Brett Hundley looked better for the second consecutive week, especially in the fourth quarter after the Bears cut the Packers lead to three. The win was not enough to sway bettors, however, sports betting odds for the next Packers' game show them as two-point underdogs to the Ravens at Lambeau.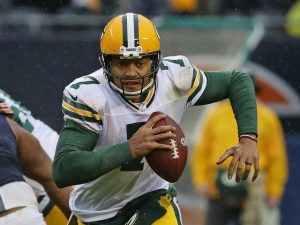 Hundley was an efficient 18-of-25 for 212 yards and a TD. No interceptions for the third straight week. He had a nice 17-yard scramble on a third-and-two and then two plays later hit Davante Adams for a 19-yard touchdown to stretch the lead back to 10 with 5:29 left. Then with the Packers trying to run out the clock and facing a third-and-10 from their 35 he hit Adams for a 42-yard gain. Good signs from the young QB.
The Packers rushing yards came from a trio of backs, two of which went out with injury. Aaron Jones and Ty Montgomery went down in the first half, leaving Jamaal Williams to carry the load. Thinking it wasn't so stupid to take three running backs in the draft this year, after all.
The defense finally held a quarterback under 300 yards passing, but not by much. Mitchell Trubisky had 297 yards and a TD. But the Packers sacked him five times and completely shut down the Bears' running game. They still gave up a number of big plays, a 46-yard TD pass to Josh Bellamy being the most glaring. But it was a much better effort than we have seen the last two weeks.
Overall it was a huge win and it keeps the Packers on the playoff fringe. Of the Packers next four opponents, only one has a winning record. These four games will likely determine whether or not the Packers bring back Rodgers when he is eligible to return in mid-December.
They are not done yet.