It has been a long time since I went into a Green Bay Packers game thinking they have absolutely zero chance of winning. This is one of those games. It was the norm when I was growing up in 70s and 80s when the best you could hope for was a close game that didn't look terrible in the national headlines. After 25 years of winning, this is hard to accept.
The Packers failed to score a point at home last week against the Baltimore Ravens and are going on the road against a Pittsburgh defense that is even better than the Ravens. Fourth in the league to be exact. I'm thinking the entertainment value at foxycasino might be more worth my time.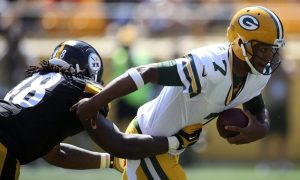 Since the loss of Aaron Rodgers the Packers' offense has been virtually non-existent, reaching a new low last week in Lambeau. The Packers wasted an excellent performance by their defense in the loss. That defense will have to play the game of it's life if the Packers are to keep it close Sunday night. The Steelers offense isn't a world beater, but it seemed to come to life last week in a 40-17 beatdown of the Tennessee Titans.
The Packers offense is on life support and may by one interception away from the Joe Callahan era. The Packers passing offense is 24th in the league and Brett Hundley's QB rating is 34th in the league. Not good. I really don't know how the Packers score in this game. If they do get shut out again it will be the first time since 1988 they were shutout in back-to-back weeks.
That '88 team was coached by Lindy Infante, who like current head coach Mike McCarthy, was an offensive wizard when he had a good quarterback to work with. Not so much without. This 2017 Packers team is looking at lot like that 1988 squad, totally inept on offense and mediocre on defense.
Betting on football is easy with BetQL and you can find NFL over under picks for any week of the year.
I'll say the Packers' defense makes a big play to set up a Mason Crosby field goal and the Packers avoid the shutout. I think the Steelers put it away early and then call off the dogs. Pittsburgh 30, Green Bay 3.