The Green Bay Packers are coming off their first losing season since 2008 and yet I think they are poised to return to the Super Bowl, even as soon as next year. The brittle collarbone of Aaron Rodgers exposed the Packers as a team in need of an overhaul. And boy, did they overhaul it.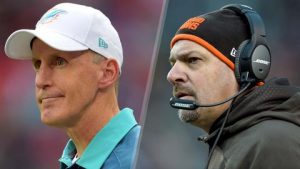 With the hiring of offensive coordinator Joe Philbin and defensive coordinator Mike Pettine, the Packers already have high hopes for the 2018 season. Couple those moves and the return of Aaron Rodgers and the Super Bowl betting odds for the Packers next year are no worse than 10-1. The Packers of 2017 took a nosedive the game after Rodgers threw a dagger in the Dallas Cowboys' season with a last second comeback.
After watching Pettine's press conference I am very excited about the new direction of the defense. I am kind of surprised that the Packers were able to get him, I would have thought he would have been in high demand. Maybe he was, and maybe he liked the fit here. I like that he said he's not that interested in being a head coach again. Whether that is true or not nobody knows, the perfect opportunity may present itself if he turns around what has been a bad defense for seven years running.
I think Pettine will find a way get Clay Matthews back in the mix. I mean, it's not like he wasn't in the mix, he did lead the team with 8.5 sacks last year, but I think Pettine will be able to disguise things more so teams won't be able to key on him as much. Maybe the biggest opposite of Dom Capers is Pettine's defenses have always been top notch against the pass. That has been a huge problem in Green Bay the last seven years.
The Packers also have the 14th pick in the draft so they have a chance to draft a playmaker on defense, kind of like they did in 2009 with B.J. Raji and Matthews.
The return of Joe Philbin is a huge upgrade over Edgar Bennett. And I love Edgar Bennett. He's been a huge part of the Packers' success for years. But Philbin just has something about him that fits perfectly with head coach Mike McCarthy. He knows his role and embraces it. And like Pettine, I think he is content to be a coordinator for the long term.
The Packers appear set from top to bottom with new general manager Brian Gutenkunst, a new corporate structure, and new coordinators. There is only one thing left to do. Win a Super Bowl.