Thanks to ESPN's new Monday Night Football commentator, Jason Witten, the best place for the top NFL free agent wide receiver, Dez Bryant, is Green Bay. While that is just his opinion and was quickly shot down by other sources, the question of whether or not the Packers need to add a veteran wide receiver remains.
The Packers current top three receivers are Davante Adams, Randall Cobb and Geronimo Allison. After Cobb and Adams, all remaining entrants have three years or less of experience, including the three rookies taking in the draft. I don't see any of those other guys being capable of being a trusted third receiver for a team with Super Bowl aspirations. How the Packers address this situation will go along way if you are looking to visit NZ betting and hit on a Super Bowl bet.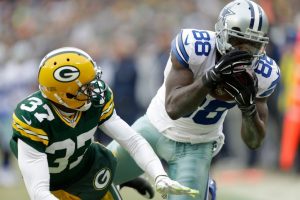 If the Packers are interested in a veteran, clearly Bryant is far and away the best available. He's only 29 years old and and a victim of a scheme change in Dallas the last two years. With the arrival of Zeke Elliott and the departure of Tony Romo, the writing was on the wall. I completely agree with Witten, add him along with the previous addition of Jimmy Graham and you have the makings of one hell of an offense. The Packers could make Aaron Rodgers a lot more eager to sign a new deal if Bryant is on the roster.
Yes, we have all heard the stories about him being a problem in the locker room, but most of that was years ago. Plus, with a one-year prove it deal he will be on his best behavior. And maybe being out the media spotlight in Green Bay would be a better fit.
There is absolutely nobody else out there, check out this list if don't agree. If the Packers stand pat they have two veteran receivers and eight with little or no experience. I really like the Packers' rookies but receivers take a while to develop. Allison didn't develop. Trevor Davis is a punt returner, Michael Clark can't catch. I think help is needed.
I am guessing new GM Brian Gutekunst and head coach Mike McCarthy will not pull the trigger. The bad taste of Martellus Bennett is still fresh in their mouth. Unless somebody takes a big step this offseason, receiver has to be an area of concern.