The Green Bay Packers' new general manager Brian Gutekunst has already put his mark on the team and it only the end of May. The new GM has performed like a seasoned veteran so far and I have to admit I like what I see.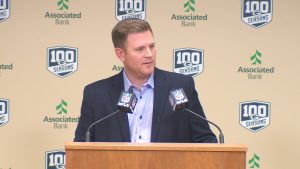 From the free agent signings of Jimmy Graham and Muhammed Wilkerson to the recent signing of offensive lineman Byron Bell, Gutekunst is showing his leave no stone unturned philosophy is coming to fruition. Now the question is whether or not it pays off or if a visit to goldenslot for alternate entertainment by midseason is in order again. But it really does appear the Packers have made significant improvements since missing the playoffs last year.
One of the moves I really like is the signing of veteran tight end Marcades Lewis. While a 12-year veteran I think he has a lot left in the tank, at least one year for sure. He is the missing link the Packers have been looking for for a long time. He is a true blocking tight end that loves to engage. But don't count him out as a receiver either, couple him with Graham and the Packers are going to have some serious options on offense. Graham may end up lining up at receiver as much as he does tight end.
The Packers running game is really going to benefit as well. Whoever emerges as the Packers' go-to back is going to have some daylight to run to. By the way, I think that back will be Aaron Jones. Just a hunch. Lewis may not be a splashy signing but I think it will be huge for the Packers' offense.
Another old phart the Packers signed is Tramon Williams. The 35-year old cornerback quietly played very well last year for the Arizona Cardinals. He also played for new defensive coordinator Mike Pettine while in Cleveland in 2015 and can help the Packers young stable of defensive backs learn the Pettine system. Smart move for a secondary that badly needed veteran leadership.
While I am still worried about the too-young receiver corp, I like what I am seeing so far out Gutekunst. I even liked his front office moves. This is his franchise and he's not afraid to jump in with both feet.