For 16 years the Green Bay Packers never needed a backup quarterback for anything other than playing in the preseason or finishing a regular season game. With Brett Favre at the helm, the backup quarterback position was basically roster fodder to run the scout team and give Favre a few breathers in practice.
Not so these days. Not with Aaron Rodgers coming off his second broken collar bone in five years. Rodgers is by no means a weakling, having played through several injuries over his career. He has however, had those two major injuries that cost him the bulk of two seasons. And in both cases, the Packers were not able to win many games without him.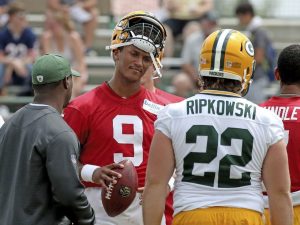 The Packers almost always had a veteran backup behind Favre, oddly enough, they have almost always never had one behind Rodgers, always relying on young unknowns. It's not like much has changed this year, either. Brett Hundley and DeShone Kizer will battle it out to back up Rodgers in what is now a key position on the roster. The Packers are on break until training camp but that doesn't mean they won't be training, and you can train, too, with anabolicenergy.com. No better time than now.
From the limited action I saw from Kizer last year, the game against the Packers and a few I watched parts of on NFL Ticket, he certainly looks to have more talent than Hundley. For sure has a stronger arm. Kizer had nothing to work with last year until Josh Gordon came back. Meanwhile, Hundley had plenty to work with and couldn't do a thing. No way McCarthy would have stuck with him had they had anybody other than Joe Callahan as their third QB.
I can't see any way that Kizer is not the backup to Rodgers this year. Unless Hundley wants to remain as a third QB I think he is gone. Can't see Brian Gutekunst showing any love for him. I also would not be opposed to signing a veteran who becomes available that makes sense and cutting them both, this is too important of a position now. Look no further than last year's Super Bowl.
It is pretty much the same way I feel about the receiver situation, youth is a problem. Let's see how it plays out, the new GM seems more open to making moves than his predecessor. Confidence level is medium-high.