The Green Bay Packers are still 17 days away from the opening of training camp and after some early fireworks, the offseason is right in the middle of its dead zone. Most teams right now are just hoping that nobody gets arrested or gets hurt working out on their own. July 26 can't get here fast enough.
So, instead of playing baccarat online I'll give you a rundown of things I have been thinking about in anticipation of the the return of Aaron Rodgers and the first post-Dom Capers season. I'll start with Rodgers.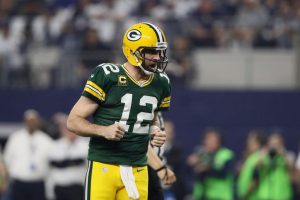 The Packers have been negotiating a contract extension for most of the offseason but have yet to come to an agreement. Not sure if one side is playing hardball or are both sides working on what my be a very complex contract that might change the landscape of top echelon players in the NFL. Rumor is Rodgers wants an opt-out option in his new deal in order to stay amongst the highest paid players after other lessor players like, say, Russell Wilson, sign a new deal.
I agree Rodgers should be the highest paid player in the league right now and for the foreseeable future, but it is risky for the Packers knowing Rodgers has missed the better part of two seasons with broken collarbones and another one might be the end of his career. I could see opt-outs being put in for both sides, maybe the team after three years and the player after four years.
I don't think Rodgers has any real desire to play his entire career in Green Bay despite comments to the contrary. If he became a free agent at age 38 I don't see any way he would return to Green Bay. Like LeBron, I could see Rodgers heading to LA. Philip Rivers is a couple of years older than Rodgers and may not want to play past 40. Rodgers could close out his career with a couple of years in his home state.
It will be interesting to see what he gets and how it is structured.
Clay Matthews is another high paid Packer but most people think he is decline even though he is only 32. I'm hear to say I think Matthews is primed for a huge year under defensive coordinator Mike Pettine. I think we will see the old Matthews this year instead of the one that was stuck in the Capers' defense with no creativity. Every play was exactly the same, it was easy to find Matthews and since you knew where he was going, it was easy to block him. I don't think that will be the case this year. Matthews will have double-digit sacks again, I think.
With the suspension of Aaron Jones for two games I wonder how the running back position will shake out. I was of the mind that Jones would be the number one guy, even though I know Mike McCarthy called it position by committee. If that is true then nothing much will change and Jamaal Williams will probably be the opening day starter, with help from Ty Montgomery. I just think Jones is the most explosive and can break a game open with one play. If he stays healthy I think McCarthy will have to leave him on the field more and I could see him still having a 1000-yard season. No matter what, the Packers are in much better shape at running back this season then they were at the beginning of last season.
I'm ready to get back to football.