The Green Bay Packers beat the Tennessee Titans 31-17 Thursday night in a sloppy first preseason game for both teams. For the Packers it was a chance for the backup quarterbacks and young wide receivers to start making their case for the 53 man roster. For me, that is what I was looking at the most. Here is what I saw.
Quarterback
I have to say I was surprised by the way Brett Hundley played. Of course, he had his moments last year as well, but he definitely looked more comfortable in this outing. I was kind of expecting another train wreck, so it was good to see.
DeShone Kizer was equally impressive. Kizer is a big boy with a stronger arm than Hundley. He, too, moved the team up and down the field. He was in with some real scrubs on the offensive line and didn't have a lot of protection, so his running skills were definitely on display. I just really like his size, and a couple of times he started to run but just stopped on a dime and threw a bullet. Showed he was still looking downfield. I think once Hundley tucks it in that is it, he's running. Can't wait to see them again but early on I like Kizer to be No. 2.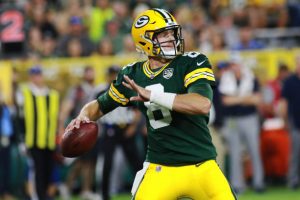 I absolutely think the Packers must keep three quarterbacks on the roster this year. No way they can be handcuffed like they were last year should Aaron Rodgers get hurt again. With Rodger's injury history, keeping only two quarterbacks would be foolish. And with that said, I sure would like to see them find a way to keep Tim Boyle on the 53. I just love the way this kid looks out there. At 6-4 and 234 he literally stands tall in the pocket. I love that he isn't looking to take off right away, rather looking to throw the ball downfield.
Boyle was playing with guys around him that I didn't even know were on the roster and he still threw two TD passes and looked Brady-esque standing in the pocket. That is my type of quarterback. While Rodgers has slowly become more of a pocket QB, he still thinks he needs to get out of the pocket and make plays (get hurt). Boyle looks like he is willing to stand in there and deliver a rocket at the last minute. Can't wait to see more of this kid.
Wide Receiver
Other than J'Mon Moore, the Packers young wide receivers stepped up after Rodgers called them "piss poor" a couple of days ago. Marquez Valdes-Scantling had a big night and Equanimeous St. Brown showed he has some skills, too. The Packers might have something with these guys.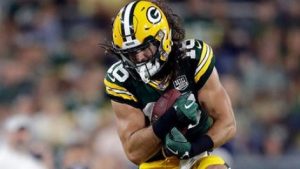 Moore is a physical specimen at 6-3, 190, but apparently can't catch. He dropped two easy TD passes, well, for sure one was easy, but the other is a play guys like him need to make if they want to make the team. And when you throw in Jake Kumerow, who has been the star of camp so far, there is no room for error. The Packers are probably forced to keep Moore because of his draft status which makes it tougher for some of the other guys to make it.
But I don't see much use for Trevor Davis or Geronimo Allison, anyway, so maybe that decision isn't as hard as it seems. Going to be very interesting to watch the next three games.
Final Thoughts
I think as far as preseason games go, it was certainly entertaining. Very sloppy, though, with 24 penalties called. The Packers running game was non-existent after Jamaal Williams left the game, but that might have more to do with the play of the offensive line, which was also non-existent for most of the game.
The defense was pretty vanilla without most of it's starters. Jaire Alexander and Kevin King didn't play because of injury (shocking), and most veterans were held out. I think all we will remember about Kevin King will be seeing his name in paper like this – Kevin King (shoulder). I'll be shocked if he makes it to the regular season.
Should be fun next week with the Steelers coming to town.