For the second time in two weeks the Green Bay Packers looked more like a bottom feeder than Super Bowl contender. And with a 2-2-1 record and grueling schedule coming up, it's starting to look like the Packers could be sub .500 for the second straight year. If you ask me the malaise you saw yesterday falls squarely on the shoulders of head coach Mike McCarthy.
I have a hunch that new general manager Brian Gutekunst didn't think it would be this bad when he took over in January. Not with Aaron Rodgers back and under contract for the next six years. But the Packers lack of talent is painfully evident five games into the season. They say "it's not about the X's and O's, it's the Willie's and Joe's", however, in this case I think it's both.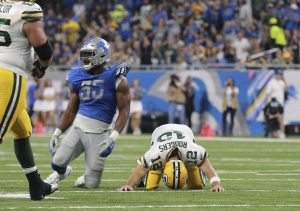 If you still think they can turn it around and still make a run, a trip toBeABetterBettor.com might be in order. Guessing you can get the Packers at pretty good odds right now. While it's not quite as bad as 2005, it sure feels like it is the end of the line for McCarthy. That Packers' sideline yesterday was a disgrace. The only thing missing from the players was a cell phone or something, they looked miles away. Instead of looking pissed because they were playing so bad they just sulked on the sideline. It was pathetic.
What's worse is it started with Rodgers. It's never Rodgers' fault when things go bad, at least not on the field. He says the right things in the post-game pressers, but he always looks like he's blaming somebody on the field. Hard to rally behind a guy like that. He's no Brett Favre in that regard, heck, he's no Baker Mayfield, either. I think for the Packers fortunes to turn it has to start with Rodgers and his attitude. And if McCarthy can't make that happen he will surely be fired after this year.
I think it will be very hard for McCarthy to keep his job, the Packers will likely need to make at least the NFC Championship game. Another one-and-done won't cut it. My revised prediction has them 7-8-1. It will be 13 years as the Packers' coach, it's time for new blood. My first choice might be John DeFilippo, the Vikings offensive coordinator. His work in Philly and Minnesota the last two years have catapulted him into the head coach conversation.
We'll see what happens the rest of the way, but I think we are playing out the string like we did in 2005 when everybody knew Mike Sherman was going to be fired. Sad, but true.