The Green Bay Packers fell to 4-6-1 after another road loss, this time to the Minnesota Vikings. Who would ever have thought an Aaron Rodgers' led team could be this bad? But, as head coach Mike McCarthy says, "we are where we are." Brings back memories of Mike Sherman's "it is what it is," but I digress.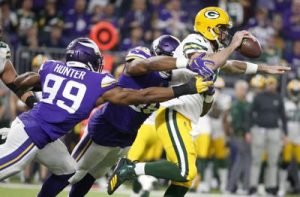 The Packers now have five games to figure out who stays and who goes in 2019. Of course that starts with the coach. Unless general manager and president Mark Murphy have somebody targeted that they really think they can get, I think McCarthy is back for the last year of his contract. I am not an expert, but just looking around the league I don't see that superstar offensive coordinator ready to make the leap to head coach.
The last five games of the season will be a test for every player and coach. Other than Rodgers' ugly body language at times, I haven't seen any signs of quit in the Packers. The defense is playing well under Mike Pettine but they just can't stay healthy. Can't play 60 minutes. The offense has three rookie receivers and only one receiving tight end. If the Packers put Randall Cobb on IR, which they should have done long ago, they would be at three rookies and Jake Kumerow to go with Davante Adams. Not good.
The thing is, it will take more than one year to fix former GM Ted Thompson's mistakes of the last few years. That is why I think McCarthy will get another year. The only caveat is if the McCarthy-Rodgers rift is real. If that is the case, then McCarthy is history. But again, who you gonna get. Josh McDaniels is the only big name, but what New England disciple has ever done a thing as head coach? And why would he want to go from a 41-year old quarterback to a 35-year older? Not happening.
I think the offseason will be more about player acquisition than it will be about finding a new coach. And I can see McCarthy being OK with coaching without a new contract. Can Rodgers get onboard with that is the question.
Believe me, I would love to see the Packers win their last five and "be in the conversation" as Rodgers said. But we all know the reality is a little bit different. In my mind, all they have to do is beat the Bears on December 16.