2018 was the Green Bay Packers' 98th season in the NFL, and its 100th overall. It was also their last with head coach Mike McCarthy, who had been with the Packers for 13 seasons but was fired 13 weeks into this one, following a defeat by the Arizona Cardinals. Interim coach Joe Philbin stepped in, but after a defeat by old enemies the Chicago Bears, the Packers found themselves out of the postseason for the second season running. Finishing with a 6-9-1 record, not only was that the first time they'd missed the postseason back to back since 2005 and 2006, but it was also their first set of back-to-back losing seasons since those dark days of 1990 and 1991.
Back then, the Packers turned their fortunes around by bringing in a new general manager and a new head coach, and then rebuilt the team around a series of smart signings, most notably Reggie White, in a $17m deal that is now considered perhaps the single best free agent signing in NFL history. That team went on to win the Super Bowl in 1997.
Changes at the top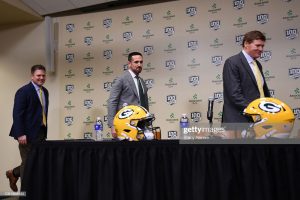 The Packers' current slump isn't as serious as the one they were coming out of in the early 90s, but the model for how they can restore their winning ability is there, and it's one that they seem to be following. Brian Gutekunst has come in as the new general manager, and after weeks of speculation, Matt LaFleur was announced as the new head coach, while the overall coaching staff has also been dramatically overhauled. LaFleur is an experienced coach, coming in after a year as offensive coordinator with the Tennessee Titans. The next set of ingredients to be added will come from the free agency and the draft.
Aaron Rodgers
First though, we need to talk about Aaron Rodgers. 2018 was the quarterback's worst season since he became a starter in 2008, and it has to be said that the highest-paid player in NFL history simply isn't justifying his salary. This isn't to say that Rodgers is washed up: he's still one of the best players out there, but in his mid-30s, he's certainly slowing down a little.
Rodgers' main shortcoming isn't declining ability, however. He was playing it too safe last season in order to defend his record for most passes without interception. This fixation on his personal statistics rather than teamwork is also reflected in his poor leadership performance. LaFleur needs to get Rodgers to not only change his attitude, but also to change the rhythm of play so that the star quarterback can emphasize his strengths. A faster, more aggressive approach would suit Rodgers better, but right now, he needs to understand that he's part of the problem.
Improving the odds
A rebuild and reorganization would certainly help the Packers' odds for the 2019 season. Now might be the time to slip in and place a wager, before the wider world cottons on that the Packers are determined to bounce back. You can also play online casino games while making a bet, taking advantage of the SugarHouse online casino first deposit bonus to get started.
Fresh talent
Overall, the Packers could benefit from an injection of new blood. A solid tight end is essential, and Jared Cook, who will be a free agent come March, could be the answer. The safety position has also been weak since the Packers traded Ha Ha Clinton Dix to the Redskins last October. Eddie Pleasant and Ibraheim Campbell were meant to cover it, but they haven't been sufficient. Josh Jones and Kentrell Brice need to improve.
The answer could be Earl Thomas. He has the right mixture of strategy and stamina to fix the gaping need for a solid back-end quarterback. He can play single-high, freeing up Jones and Campbell to operate closer to the scrimmage line. Signing Thomas should definitely be a priority, and the Packers have the money spare to make it happen.
The next priority is for a great edge pass rusher: possible candidates include Josh Allen, Jachai Polite, Clelin Ferrell, Ezekiel Ansah, DeMarcus Lawrence and Jadeveon Clowney. A really good offensive lineman, a right tackle and a solid receiver are also needed. Filling in the offensive line with a couple of new guards will strengthen play significantly. Cody Ford and Chris Lindstrom would do nicely. Let Randall Cobb go and target Golden Tate as a wide receiver.
LaFleur certainly has his work cut out, but right now he needs to focus on free agents and the draft. The Packers are famous for being able to turn around their fortunes: it's time for them to do it again.