For the first time since 2006 the Green Bay Packers have a new head coach. And like then they have a Hall of Fame quarterback coming off a losing season. 2018 was a season like no other for the Packers. For one it was the first time ever the Packers fired a coach during the season. And then you have quarterback Aaron Rodgers, who threw for 4442 yards and 25 TDs with only two picks and it is considered a bad year.
It was time for change in Green Bay. Not only was the offense stale, the fan base was stale. Some of the games I was at last year were shameful. Fans doing the wave when the Packers had the ball for example. I wasn't, but in a way I can understand, the Packers were boring as hell to watch.
I have a hunch that is about to change. New head coach Matt LeFleur seems to have brought a new attitude to 1265 Lombardi Avenue. And from everything we've heard it has been good. Rodgers seems to be in heaven learning the new offense, which is something I thought would happen. And just like that the Packers are contenders again. A trip to American football betting at 888 Sport NJ might be in order. This is not a rebuilding year.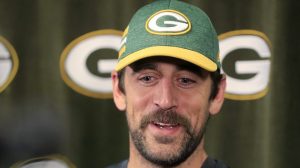 I am excited to see Rodgers run a modern offense. As he even said, he knew the other one so good he didn't have to study it very much. That is a problem for former head coach Mike McCarthy. I doubt he ever coaches again. But I digress, Rodgers seems to have taken to LeFleur and that was the biggest question mark for most pundits. Rodgers probably did get McCarthy fired, so guessing he is going to be all in with the new coach.
What I am really excited about is seeing the Packers defense in its second year under Mike Pettine. The thing I was most worried about when McCarthy was fired was that they would lose Pettine. Thankfully, Pettine, true to his word when he was hired, was not interested in becoming the head coach and immediately agreed to stay on as defensive coordinator.
Tomorrow second year general manager Brian Gutekunst will execute his second draft. The jury is still out on Gutekunst's first draft, but first round pick Jaire Alexander looks like a solid player and I like the young receivers. Especially if 4th round pick J'Mon Moore is a better fit in the new offense. Dude is a physical specimen.
Defense and offensive lines are the areas I think the Packers need the most immediate help at. Offensive line is probably the most important. I'm not a draftnik, I just follow the mocks, and I didn't see many having the Packers go offensive line. Thanks to a few free agent moves in the offseason the Packers have some flexibility, but the trenches is where I would focus on.
The real fun starts tomorrow. Can't wait!