The Green Bay Packers just wrapped up their second draft under general manager Brian Gutekunst and for the most part graded out well. This is a key draft for the Packers and I don't know of another general manager in the league under more pressure than Gutekunst. When you take over a team with Aaron Rodgers at quarterback you are expected to win.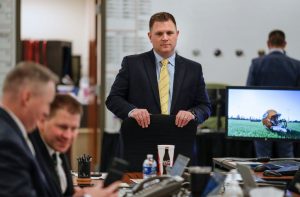 Not only do these new Packers have to prove the young GM right, his first draft must take that much needed second year jump, especially the three receivers. Last year's first round pick, cornerback Jaire Alexander, showed some promise before hitting the rookie wall late in the year.
Wide receivers Marquez Valdes-Scantling and Equanimeous St. Brown also look like good picks and are also being counted on heavily to improve this year. In fact, the Packers' offense depends on it as Gutekunst did not add receivers in the draft or free agency. Maybe J'Mon Moore will figure things out in his second season after a first year that can only be graded as a D- at best.
For sure punter JK Scott has to improve or he won't even make it to the regular season. Dude has a great leg but was horribly inconsistent in his first year. Of course, he had the severe misfortune to have to work under Ron Zook, who of course tried to change his delivery. I think he will better this year.
Another guy from last year's draft, offensive lineman Cole Madison, has returned to the team after taking the year off to deal with mental issues following the death of a college teammate. He was a fifth round the pick the Packers were high on, and the Packers badly need to improve their offensive line.
For the last 25 years or so the Packers have always been one of the betting favorites to win the Super Bowl. The last two years they didn't even make the playoffs, yet their odds of winning it this year is still 22-1 and in the top ten at most betting sites. I would be looking to take advantage of the bookies offers as I think the odds will be going down as we get closer to the season.
Remarkably, the Packers have remained betting favorites despite the change to head coach Matt LeFleur. The over and under for wins is either nine or ten at most places, which is pretty high for a team that hasn't made the playoffs the last two years. The Packers also have 10/1 odds to win the 2019-20 NFC Championship this year. Of course, the Packers, with Rodgers at quarterback will always be betting favorites. And with a new offense, the over might be a good play on Packers' games this season.
Especially if the Packers' 2019 draft picks hit. I am not a draftnik or expert in any way. I don't even follow college football all that close. So my take on the draft picks is based purely on what I have read in the last four months and the days since the draft. So as I'm sure you all do, take it with a grain of salt. I'm just a fan with a blog.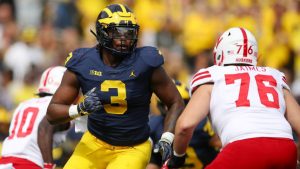 With that said, I kind of like what Gutekunst did with this draft. Picking at 12 you figure they should get a good player and I think they did just that with the pick of Rashan Gary. If this was Dom Capers running the Packers defense I might be a little concerned about the fact they are again drafting a guy and moving him to a new position. But I think Mike Pettine is living in the modern day NFL, unlike Capers.
I hope Gary isn't another Nick Perry, but it was really the Packers who ruined Perry and not Perry himself. The Packers tried to move Perry from right defensive end to left outside linebacker and it was a massive failure. His only good year came when he played right outside linebacker when Clay Matthews was moved inside. I think Pettine will be much smarter with Gary.
Gutekunst also moved up in the first round to snag safety Darnell Savage out of Maryland at 21. I really like this guys. Love his speed and ability to pop dudes whenever he can. The theme of Gutekunst's drafts has been speed. If Alexander develops as expected and 2017 second round pick Kevin King stays healthy, with Savage and free agent signing Adrian Amos, the Packers will have an extremely fast secondary.
The remainder of the draft also addressed many needs the Packers have. Of those I really like the tight end, Jace Sternberger from Texas A & M. He's a late bloomer and certainly no sure thing, but a guy with the name Sternberger belongs in Green Bay!
I have also saw articles that thing Kingsley Keke could be a huge steal. That would be awesome, especially in light of the article from Tom Silverstein today. Never been a huge Mike Daniels fan anyway, more bark than bite.
The running back from Notre Dame looks intriguing, considering like Gary, he wasn't a big numbers producer in college. The CB and LB they took I have not read up on yet.
All is new in Green Bay right now. New coach, and with it a whole new attitude and a focus on the future and not the past. 2019 could very well be a turning point in Packers' history.