The Green Bay Packers began organized team activities this week and there is a new found excitement in the air. It obviously starts with new head coach Matt LeFleur, but also with the return of second year defensive coordinator Mike Pettine. By all early indications the defense will be much improved this year.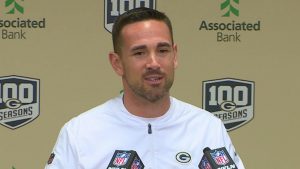 Of course the biggest topic is and should be the offense and how LeFleur and quarterback Aaron Rodgers get along. Early indications are they will be just fine. Rodgers sounds fired up to be challenged with learning a new offense. And it sounds like he will get a lot more reps this offseason and in the preseason than the past few years, which I think is huge. Seven snaps in the preseason does not prepare you for opening day. With the limited practice time available under the horrible CBA, you would think coaches would play starters more in the preseason.
The excitement on offense isn't just for Rodgers. The Packers receivers are also learning a new system and the challenge is to keep Davante Adams great and elevate the young receivers they drafted last year. Geronimo Allison is back from injury as the only other real veteran on the team. Of course, fan favorite, Jake Kumerow (gratuitous mention), the new Jeff Janis, will also be in the hunt.
With Rodgers fired up again the Packers will certainly be betting favorite for the Super Bowl again. But if you are looking for a little action before the NFL season, check out College Football Futures, certainly some real opportunities to be taken advantage of this early.
Everybody is worried about the tight end position on offense but I'm more worried about running back. I am not a big Aaron Jones fan, and I don't think Jimmy Graham is as bad as the media makes him out to be. He had 31 more receptions than the Packers' leading tight end in 2017, and just one less than the team total. It was his lack of touchdowns that was surprising to me, but without Allison and an over the hill Randall Cobb, Graham was the main guy to cover by defenses. I think that will change this year.
And who isn't excited about the makeover of the Packers' defense. With the signings of outside linebackers Za'Darius Smith and Preston Smith in free agency and the drafting of Rashan Gary with the 12th pick in the first round of the NFL draft, the Packers remade their defense in one fell swoop. They also signed safety Adrian Amos and drafted safety Darnell Savage with the 21rst pick in the first round.
It's been a long time since the Packers had a new head coach and certainly never had one like LeFleur. At least I don't think. This is going to fun to watch. Mark Murphy's legacy is on the line.