The Green Bay Packers are on their second off season layoff following OTA's and mini camp and confidence seems high. How that can be I don't know. There is no real practicing in the off season anymore, so you really can't can't come to any conclusions from either event. But it was a positive few weeks of team bonding, even with the injury to head coach Mike LeFleur.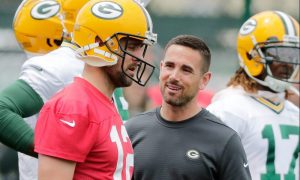 So with that said, the fake news had to come up with something and they did just that. Creating an Aaron Rodgers-Matt LeFleur rift over Rodgers' ability to audible at the line of scrimmage. Such a much ado about nothing it makes me sick. For one, LeFleur is not taking away Rodgers ability to audible, nor his ability to scramble. Please stop!
Rodgers got Mike McCarthy fired and we all know that. He's not going to get LeFleur fired. He's too old to start over again. Rodgers either has to improvise, adapt, and overcome, or force a trade. I think he will do the former but wouldn't mind the latter. He's not exactly Mr. Warmth.
Even with the mini controversy the Packers remain betting favorites for the Super Bowl next year. Those kind of predictions are unheard of for a team with a rookie head coach. Better be a short learning curve for LeFleur. A trip to the best sportsbook might be in order. Betting on the Packers now would probably be wise as odds will drop if they get off to a hot start.
My concern about the Green Bay Packers heading into the season is not the quarterback-coach relationship. Nor is it the young receivers situation. Or even tight end, where everybody thinks Jimmy Graham is over the hill. My biggest worry is running back. I don't think the Packers have the horses to run LeFleur's offense the way he would like.
While LeFleur is part of the young offensive surge that started with the likes of Kyle Shanahan and Sean McVay that has been lighting up the league the last few years. The little known fact is that these offenses like to run the ball. In LeFleur's two seasons as offensive coordinator his teams ranked eighth and sixth in yards gained rushing. The only problem is the Packers don't have Todd Gurley or Derrick Henry. Go back another year and while the quarterbacks coach in Atlanta he had Devnonta Freeman Tevin Coleman. The Packers do not have that kind of quality at running back. Not by a long shot.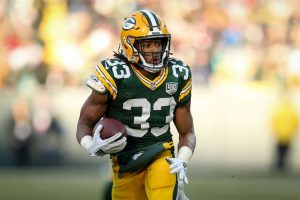 Projected starter Aaron Jones gets bruised if hit by popcorn. Jamaal Williams is a plodder and good blocker. Dexter Williams, the sixth round pick out of Notre Dame may very well end up being the starter before too long.
Don't get me wrong. I love Jones to death, with his personality, and skill, he could be a real star in the league. But not being able to play 16 games won't get you very far in the NFL. He did come into the offseason supposedly beefed up a little, so we'll see.
Nobody trades for running backs so the Packers are pretty much forced to make do with what they got. Unless the rookie rises, I am skeptical.