The Green Bay Packers took care of business in New York and while not flashy it was a win on the road against a bad team. And now, because of the Vikings loss in Seattle last night the Packers are three wins over three bad teams from winning the NFC North division.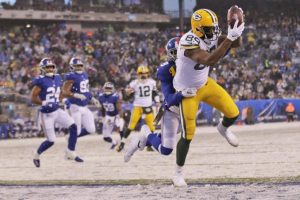 Under the previous regime I would expect a Packers' loss next Sunday against the Redskins. Under Matt LaFleur the Packers have shown resilience in bouncing back from losses, but they haven't yet shown they can win a game when they really, really need to. Regardless of the level of opponent the Redskins are, this is a game the Packers really, really need to win.
In New York both sides of the ball looked disjointed at times. On offense the Packers had a chance to put the game away early late in the second quarter. They had the ball with plenty of time to score and then got the ball to start the second half. They didn't score on either drive and let the Giants hang around until the fourth quarter. If the Giants had a more experienced quarterback, the Packers would have been in big trouble.
At least the Packers are home this week against the Redskins. Can't see the Redskins winning three in a row. So I think the Packers will get this one. Assuming the Packers lose at Minnesota, where they have never won in the new stadium, I think the biggest threat the Packers division hopes is the Bears. I just got a hunch they will be overconfident against a team they usually beat in their sleep.
Of course, if the Packers lose to the Redskins, they will smoke the Bears. This is the NFL, it changes so much from week to week. The only sure thing is the Vikings aren't losing again.