The Green Bay Packers are 10-3 but not exactly instilling confidence in their fan base the last five weeks. In that span they got destroyed by the Chargers and 49ers and squeaked out wins over the Panthers, Giants and Redskins. Not exactly a murderers row. I think at this point not many people would put this team in the same class as the 49ers, Saints and Seahawks.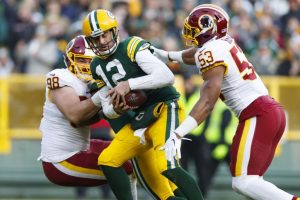 However, there are three games to go and it's not like we haven't seen the Packers get hot late and have success in the playoffs. But we haven't really seen any signs the last few weeks that either side of the ball is ready step its game up. I need to see something to give me confidence and it better start Sunday against the Bears.
It would be kind of nice if Aaron Rodgers would play like Aaron Rodgers. After seeing some of his "non-throws" last week, it's clear he still is not confident in the offense or his receivers. Guys are wide open and the ball is not coming out. Why he won't take the yards underneath when they are available play after play is beyond me. He looks like a rookie in Matt LeFleur's offense, which he is.
Not going to get into the Bears' game yet. You know how I feel already. This is the biggest game of the season so far. It's at Lambeau. It's going to be cold. It is time.