The Green Bay Packers face the Chicago Bears for the 200th time Sunday and it is a huge game for both teams. A win by the Packers could clinch a playoff spot while a loss could doom them from making the playoffs at all. A Bears loss and the fat lady will have sung.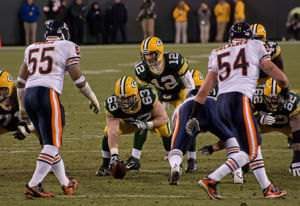 The Packers have done nothing the last five games to make you think they can win a big game. They have lost twice and looked average at best in their three wins, two of which they had to sneak out over bad teams at home.
Meanwhile, the Bears have caught fire on offense and have won three in a row and four out of five. You could make the case this is two teams going in opposite directions.
This game is Aaron Rodgers' game to win. If he plays like he is supposed to, the Packers should be able to pull it out at home. If he plays like he did against the Redskins, the Packers could get blown out again. The Bears' defense is still one of the league's best.
I just don't have the confidence in Rodgers right now. Packers division hopes, for all intents and purposes, end Sunday. Bears 23, Packers 17.