The end of the regular season is fast approaching and for the first time since 2016, the Packers will take their place in the playoffs.
Optimism is understandably building at Lambeau Field but can Cheeseheads really start to dream of a third Super Bowl win?
A look at the odds across the top US betting sites according to United Gamblers suggests not. But we're far less reserved in that respect.
Here are five reasons why the Packers are a hot tip to lift the Vince Lombardi trophy in Florida.
1. That man, Aaron.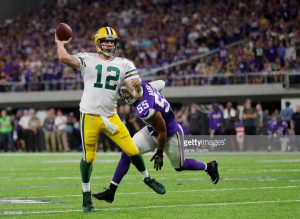 Age creeps up on us all. But for some, it's just a number. You only have to look at Aaron Rodgers for proof of this.
Like a fine wine, the two time MVP and Super Bowl MVP of 2011 just gets better season on season. With his ability to make those late, game-defining plays and inspire those around him, you have to say the number 12 is worth every dime of his reported $33.5 million annual salary.
In the hot cooker of a playoff, you'd still put your money on Aaron Rodgers doing what Aaron Rodgers does best, even at 36.
2.  The knack of winning ugly
The hallmark of any successful sports team is the ability to win, without necessarily playing well. It's fair to say The Pack have been masters of this more than any other team this year.
There are plenty of critics who believe the Green and Gold are not as good as their 11-3 record suggests. And they'd be half right; far from the finished article, the team can be accused of nearly letting teams back into games that should have been won by a greater margin.
Yet, at the same time, confidence is growing with every game and more to the point, a winning mentality is developing. What's going to happen when the Packers do start to click?
3, First-round playoff bye still possible
Two victories in their two remaining games at the Vikings and the Lions will mean a first-round bye and home-field advantage is a distinct possibility.
With three other teams in the NFC standings also owners of an 11-3 record heading into the business end, a lot may rest on what happens elsewhere.
But even if the bye doesn't materialize, extending their winning streak to 5 will serve as perfect prep for the Packers whoever they end up facing.
4, Aaron Jones has arrived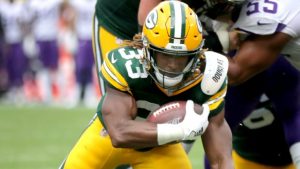 Question: Where would the Packers be this year without the other Aaron?
(Aaron) Jones was underused under ex-Green Bay coach Mike McCarthy and has suffered some unfortunate injuries since starting out in 2017.
But Jones has found a new lease of life under new head coach Matt LeFleur. So much so he is now almost indispensable to this current side.
Only one player has more TDs than Jones' 17 this year. The running back has become deadly in the red zone and turned into a touchdown machine at breakneck speed. Whatever happens, this is set to be his best return yet.
5, The best team doesn't always win
The playoffs can be unpredictable to say the least. The one-and-done format can see the coolest of teams crumble under pressure.
And remember it's not always the best team that wins the Super Bowl – but often the hottest team.
While the Packers are still a work in progress under LeFleur, there's growing belief Green Bay can start a new decade the same way they did the 2010s.