The Green Bay Packers and Seattle Seahawks kick off at 5:40 Sunday night for a chance to play the San Francisco 49ers for the NFC Championship. It has the makings of yet another Packers-Seahawks classic. Lambeau Field, cold temperatures, Aaron Rodgers and Russell Wilson.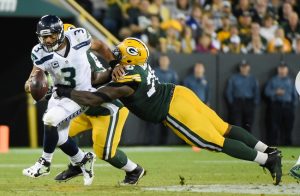 I don't know what to think of this game. The Packers are the worst 13-3 team in history according to most media and will not have the best quarterback on the field for this game. Wilson was an MVP candidate for most of the year until Lamar Jackson started going crazy. While Rodgers had a good year, it was far below the standards he set in last decade. Nonetheless, the Packers are two wins away from the Super Bowl.
If the Packers are going to win they are going to have to take advantage of the Seahawks banged up offensive line and keep constant pressure on Wilson. If he has any time at all he is going to hit some deep balls on the Packers' secondary. While greatly improved, they have given up deep balls all year.
On offense they are going to need Aaron Jones to have the game of his life. I don't think Rodgers has the weapons at receiver to put the game on his back. Head coach Matt LaFleur is going to need to get creative and find a way to get Jones going early.
I have a hunch this will be the overtime game for this weekend. The Packers find a way one more time. Packers 27, Seattle 24.