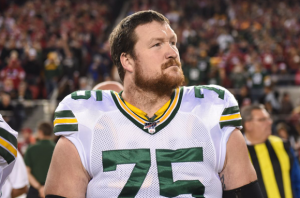 Bulaga a Bolt
Bryan Bulaga's tenure as a mainstay on Green Bay's offensive line has come to an end. The Packers' first-round pick of the 2010 NFL draft has signed a three-year, $30 million contract with the Los Angeles Chargers which is a pay raise from the roughly $6.5 million per annum he signed with Green Bay in 2015. The 30-year-old has had two ACL tears over his career and his anticipated longevity coupled with a lofty price tag caused the Packers to look elsewhere.
The Packers signed street free agent Rick Wagner, released from the Lions last week, to a two-year $11 million pact which allows the team more flexibility in filling the voids in their lineup. Although Wagner is not any younger than Bulaga, and not quite as good, he is a serviceable replacement but certainly not a long-term solution and he may not even be a starter if they select an offensive tackle in the draft.
In other news, inside linebacker Blake Martinez took the money and ran all the way to New York where he landed a three-year $30 million deal with the Giants. Much like the Bulaga exit and Wagner arrival, Packers GM Brian Gutekunst replaced the steady but unspectacular Martinez with former Cleveland Brown Christian Kirksey who inked a two-year $16 million pact with the Pack. Kirksey has plenty of upside but injuries over the last two seasons have limited him to just nine games. Essentially, he is a cheaper option at the position than Martinez with a shorter commitment. However, he is familiar with Green Bay's defensive coordinator, Mike Pettine, whom he played for when Pettine was the head coach in Cleveland which should make his assimilation into the Packers' defensive unit much easier.
Packers Looking for a Catch
The odds on the Packers to win the NFC North are +125, ahead of Minnesota (+200), Chicago (+300), and Detroit (+800) according to the folks over at Sportsbook Review. And if Green Bay is to prove worthy of that top billing, they will have to choose wisely in the NFL draft next month. The conventional wisdom is that they will opt for one of the many talented wide receivers but if they stand pat at No.30, there is virtually no chance that the top three, CeeDee Lamb (Oklahoma), Jerry Jeudy (Alabama), and Henry Ruggs (Alabama) will be available.
But a class this deep in pass-catching pedigree doesn't warrant the Packers making a gambit to trade up which bodes well for landing a second-tier prospect who would normally be top-tier in most other years. Laviska Shenault Jr. of Colorado could be just such an elite talent to land in the laps of the Packers if the cards fall just right. Shenault was a first-team All-Pac-12 receiver in his sophomore season but his junior campaign was not quite as impressive due to injuries. But if some teams are wary of his fragility it will simply be an opportunity for another club to scoop him up and add him to their receiving corps.
There are certainly other candidates who could ultimately find themselves in a Packers' uniform next season and it doesn't necessarily have to be a first-rounder. Outside of the four receivers mentioned, the best of the rest are (in no particular order): Tee Higgins (Clemson), Michael Pittman Jr. (USC), Justin Jefferson (LSU), K.J. Hamler (Penn State) and Jalen Reagor (TCU).
Some would argue that a draft so laden with pass-catching elites would allow the Packers to plug another hole and still land a dandy receiver in the second round. If that is the tact chosen by the Green Bay brass then USC's offensive tackle Austin Jackson could be a nice selection at No. 30. Jackson would fill the void left by Bulaga at right tackle and could eventually move over to the left side if he proves himself. As stated above, the acquisition of Rick Wagner was made to acquire depth on the offensive line as opposed to landing a bona fide starter.
Head coach Matt Lafleur was asked if he would be willing to pick a quarterback in the first round despite having a future Hall-of-Famer in Aaron Rodgers under center, "I don't think you can ever have enough of those guys. (If) you find a guy and he's sitting there in the right spot, I think you have to take a chance on him."