Well, apparently reports of the Green Bay Packers' demise were greatly exaggerated. The Packers were almost unstoppable on offense in a 43-34 win over the Minnesota Vikings. They rolled up 522 total yards and Aaron Rodgers looked like vintage Aaron Rodgers. I knew he was ready to wreak vengeance on the NFL with the media writing him off as washed up or unhappy as a Packer. He could be in for a huge year.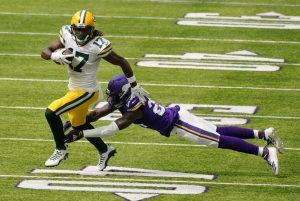 Rodgers number one target was Davante Adams, who caught 14 for 156 and was open pretty much every play. The Vikings rebuilt secondary had no chance against Adams, who is clearly one of the league's best receivers, even if that is only known in Green Bay. And talk about clutch, every time the Packers need a big play to sustain a drive Adams comes through. When the Vikings pulled within 10 in the fourth quarter and the Packers facing first and 20 at their own 37 Rodgers hit Adams for 40 yards on what looked like the same play the Packers used late in the playoff game against Seattle last year. Three plays later the Packers scored a TD and it was game over.
Before you head to CasinoSites.org and find a site to bet the house on a Packers' Super Bowl, realize there has to be a little concern about the Packers' defense. When the game was being decided they were playing well, and in fact it was two big plays by Jaire Alexander that really turned the game in the Packers favor. First a sack for a safety and then an interception two Vikings drives later. In between Za'Darius Smith got a big third down sack of Kirk Cousins.
But when they needed to finish they weren't able to step up and stop the Vikings, who went through them like a hot knife through butter in the fourth quarter. The Vikings actually scored 34 points with only 17 minutes time of possession.
You could say the Packers stopped the run effectively, but that is only because they had such a big lead that the Vikings didn't have time to run very often. We'll see how they are as the season goes on and games are closer in the second half. Still a lot to prove.
Overall it was a great win and the Packers have now won seven straight NFC division games. They will go for number eight next week in Lambeau against the Lions.