For the second week in a row the Green Bay Packers faced a division foe and for the second week in a row the Packers rolled to victory. The 42-21win over the Lions moves the Packers to 2-0 this year and 8-0 in the division since Matt LaFleur took over last year. Not too shabby.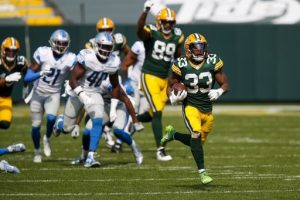 The Packers won this one on the ground, rushing for 259 yards, led by Aaron Jones' 168 yards on 18 carries. It was a career day for Jones that puts a little more pressure on the Packers to sign the would-be free agent to a contract extension before he hits free agency after the season. Dude is a touchdown machine, I think they should pay him.
After a rough start, giving up two 75 yard touchdown drives, the Packers defense settled down and held the Lions to one more score and only 307 yards. They even had a pick six and second year linebacker Rashan Gary had one-and-a-half sacks. Gary is starting to look like the first round pick he was last year. That is a good sign as the Packers will need all the pressure they can get when they travel to New Orleans next week.
The Packers will find out a little bit more about their team next week indeed. Are they the same team that fell flat on their faces in regular season losses at Los Angeles and San Francisco? Or can they go on the road and beat a quality opponent?
The Saints whipped the Tom Brady led Tampa Bay Buccaneers and are batteling the Las Vegas Raiders as I write this. Drew Brees and company are as explosive as ever and the Packers' defense will have no shot if they can't pressure Brees.
But it's too early to worry about that game. Plus, with it being a Sunday night game it seems a long ways away. Let's enjoy 2-0, it was well earned and shows the rest of the league and the media the Packers are not going anywhere anytime soon.