Mission accomplished. By dispatching the Atlanta Falcons 30-16 Monday night the Green Bay Packers are 4-0 and in first place in the NFC North Division. Now with a bye week ahead the Packers have a chance to get a little healthier before a stretch of three road games in four weeks, including a trip to San Francisco for a Thursday night game. The league not doing the Packers any favors there.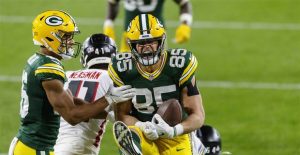 The Packers found another weapon in their arsenal in the win over the Falcons. Tight end Robert Tonyan had a career night with three touchdown catches and 98 yards receiving. Pretty much out of necessity the Packers seem to find a new weapon to use each week. When Davante Adams returns and maybe Allen Lazard later in the season, this offense could be unstoppable. Injuries are hitting the entire league hard right now, the Packers included, yet somehow head coach Matt LaFleur has found ways to work around them. Very impressive for a second year head coach.
The Packers' defense had a very nice night against the Falcons. They only gave up 16 points and 327 yards to the potent Falcons' offense. The Falcons lost Julio Jones at halftime and the Packers held the Falcons other stud, Calvin Ridley, to zero catches on five targets. Za'Darius Smith had three sacks as the Packers kept pressure on quarterback Matt Ryan all night.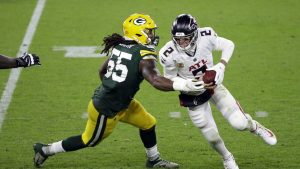 Matt LaFleur has now won 17 of his first 20 regular season games as a head coach. The Packers offense is really taking starting reflect the young coaches personality. It is a dizzying array of motion before the snap that requires impeccable timing and leaves defenses guessing on who is getting the ball and what direction are they are going. Throw in Aaron Rodgers playing as well as he has ever played and the possibilities are endless.
I'm looking forward to the week off. I sure hope the Packers' players stay home during the bye week. Nothing to do in Green Bay except get COVID-19 right now. I know "it sucks" as Rodgers said, but it's one year and a small sacrifice to make in the grand scheme of things. A lot of people are a lot worse off than having to isolate for a week or so.
During the bye the Bears host Tampa Bay and the Vikings are at Seattle, certainly losable games for both division foes. Sit back, relax, and watch the Packers pick up a half-game in the standings.