Thanks to the Los Angeles Rams the Green Bay Packers are back in first place in the NFC North with their 5-1 record. The Chicago Bears dropped to 5-2. The NFC North is down to three teams left in contention for the title. I'm ruling out the 1-5 Minnesota Vikings. Its Packers, Lions and Bears from here on out.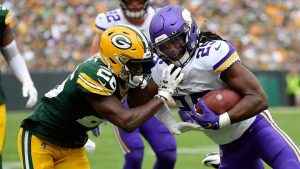 Whenever I look at the Packers schedule when it comes out I always seem to look for "for sure" losses first. So here is what I see for those three teams, starting with the Packers, of course. And the only "for sure" loss I see for them will be next Thursday in San Francisco. They have to travel to the place of two major beatdowns last year and do it on a short week to boot. Not good. Want to see how reliable online sportsbooks see the Packers? Check out the top ten casino sites by PAPunter.
While the rest of the schedule is packed with playoff contenders, only Tennessee in Lambeau December 27 really worries me. And at Indianapolis scares me a little, that is a good defense. So I think the Packers will finish 13-3 or 12-4 unless things completely unravel.
The next two weeks will be big for the Bears. They are at home against the Saints then on the road against Tennessee. I am putting the Titan game in the for sure loss category. If they were to win those two games, though, they would be in the drivers seat. After that the only team with a winning record they have to play is the Packers, twice. The Bears will win at least 10 games I think and 11-5 is very doable.
The Lions have two for sure losses in my book – at Tennessee December 20 and at home December 27 against Tampa Bay. The Lions will probably struggle at Carolina, too, and I wouldn't be surprised if the Vikings got them one of the two times they play yet. I can only see four more wins for them, so 7-9 and the playoff drought continues, even with the expanded field this year.
The beauty of the NFL is anything can happen and usually does. I'm sure some of those for sure losses will be wins this whole thing blows up. But for now, the Packers look to be on track to repeat as division champs.