The Green Bay Packers will take on the Jacksonville Jaguars Sunday in a game that on paper should not be close. The Jaguars have lost seven games in a row and will be starting a backup quarterback in Lambeau Field. Oh, and the wind chill will be in the 20s with 25 mph winds. On paper this should be an easy win for the Packers.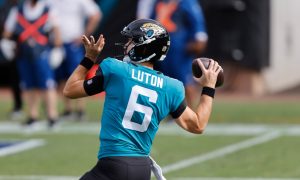 The Packers have a lot of injuries and may think they can rest some of these guys and still get a win because of the lowly opponent. But this is the NFL and that kind of thinking can lead to embarrassment. This wouldn't be the first time the Packers lost as 14-point favorites, they did so as recently as 2018 against the Arizona Cardinals. It can't happen again, can it? If you don't think so check your betting guide and lay the points. Not sure I would, though.
Actually, under head coach Matt LaFleur the Packers have been pretty good at beating the teams they are supposed to beat. The only loss against a bad team was the Chargers last year, but those Chargers were still a much better team than the Jaguars are. The fact that the Packers have lost two of their last four games should help in their preparation.
the Jaguars are 29th in defense and 26th on offense. Jake Luton, a sixth round pick out of Oregon State will be making his second start at quarterback. He threw for over 300 yards against the Texans last week, nearly pulling the game out at the end. The Jaguars do have the sixth ranked rusher in the league in James Robinson, who could present some problems for the notoriously bad Packers' run defense.
The Packers have made bad defenses look like the Steel Curtain before, but this won't be one of those times. The Packers will win this game, but the weather conditions will make it closer than many expect. Packers 27, Jaguars 17.