There is no question that the Green Bay Packers did not have their best stuff yesterday. But somehow, instead of packing it in like we have seen previously under head coach Matt LaFleur, the Packers fought back and pulled out a gritty 24-20 win over the pesky Jacksonville Jaguars.
It was a miserable day in Green Bay, not that terribly cold, just incredibly windy with low clouds making for a typical gray November day. But from the start it was clear that didn't matter to the Jaguars, they came ready to play a football game. The Jags forced the Packers to a thee-and-out to start the game then drove right down the field for a field goal. I had visions of Dalvin Cook running through my head. But the Packers' defense got better from there, and in fact won it in the end.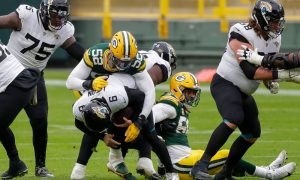 With the win the Packers are 7-2 and will remain in first place in the NFC North division. If the upstart Vikings beat the Bears tonight the Packers will be up by 2.5 games on the Bears and three games up on the Vikings and Lions. Yes, the Lions are sticking around after winning again Sunday. Michigan sports betting has to be excited to see the Lions still in the hunt for the postseason. The Packers will need to keep winning as the Bears and Vikings have super easy schedules down the stretch.
The Packers ended up winning this game with their defense. Yes, I said it, they won because of their defense. The offense could never get any rhythm going and Davante Adams had a rough day with two drops and a fumble. He did, however, come back in after suffering an ankle injury to catch the game winning touchdown, so it wasn't all bad.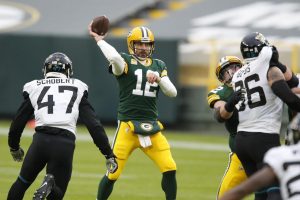 Aaron Rodgers threw for 325 yards and two TDs and ran for another one but it was a struggle the whole way. 78 of those passing yards came on one play. The Jaguars' 29th ranked defense shut down the Packers' running game, holding Aaron Jones to 46 yards and just 80 for the team. But after the Jaguars took the lead in the fourth quarter the Packers' offense put together their best drive of the game to take the lead. The defense took it from there.
Yes, it was only the Jags, but they were playing hard and played good enough to win. Usually when you get two turnovers and punt return for a TD, you win the game. The Packers ground out a game they maybe shouldn't have won. That's life in the NFL.