This year's International Series was scrapped for obvious reasons, but with planning for 2021 underway, we might get to see some top teams head over to London and Mexico once again. Green Bay are the only team yet to have a game over in England, so does that mean we will see the Packers at Wembley or the Tottenham Hotspur Stadium next year?
Packers to Head to London as Champions?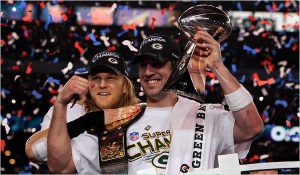 We're past the halfway point at the time of writing, and the Packers have had an excellent start. It could have been better had the Vikings result been different, but if they can continue their form into the second half of the season, then they'll comfortably stay top the NFC North standings.
Green Bay is priced up at odds +375 with bet365 to win the NFC Championship. There are other options, as well. Unibet has a license in NJ, and they have the Green Bay at +400, which is slightly better. Unibet also have the Packers priced at +375 to win the Super Bowl too. At the time being, this is one of the best prices in the industry.
As we move into the season half of the season, some divisions are too tight to predict. Neither side can put much of a streak together in the NFC East, with the Eagles edging it at the moment. NFC West is also close, but Green Bay could pull away from the chasing pack in the North if they manage to string together a couple of quick wins.
Why Didn't Green Bay Play Overseas in 2019?
Green Bay were one of only three teams heading into the 2019 season not to make an appearance at the International Series in London since the first was played back in 2007. The other two were the Panthers and the Texans. Carolina and Houston both made the trip to London that year, which left Green Bay as the only team having not yet played a single game in England in 13 years.
Aaron Rodgers thinks the decision is motivated by money. He also believes that nobody wants to give up a home advantage against them: "We travel too well," Rodgers said. "Nobody wants to give up a home game with the Packers because they know it's going to be a full house. We're not going to give up a home game, because we're sold out for the next 30 years and nobody wants to give up a home game when we come to town."
Is London 2021 Realistic?
Nobody knows how the current worldwide situation is going to pan out, but fans are hopeful the NFL International Series will return in 2021. If it does, everyone knows Aaron Rodgers' feelings around it. He would love to head over before he hangs up his cleats. "It's amazing to me, that we've been doing games in the UK for so long and unfortunately we're the only team that hasn't been over there yet," Rodgers said. "I've been wanting to go since the first time I heard about it. I've been a fan of English football for a long time, I know the history of many of those stadiums and I know the type of sports fans that Europe and especially England has. I'm excited to get over." He added: "It's sacrilegious to take a game out of Lambeau. We're the smallest market in the NFL, but one of the oldest teams – we've been around for over 100 years now."
It remains to be seen If Green Bay will be in London in 2021. But if they do get the chance, not only will they enjoy their first-ever trip, but they could also be doing it as champions if things go their way this season.