The Green Bay Packers head to Indianapolis Sunday to face the 6-3 Colts, leaders of the AFC South division. The Colts have one of the best defenses in the NFL and for the Packers that is not good news. Other than the Chicago Bears, who they know like the back of their hands, the Packers do not do well when going against a top tier defense. On top of that the Packers have never won a game in Indianapolis.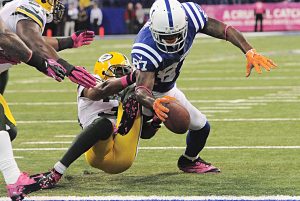 The Colts have number one defense in yards allowed. second against the pass and third against the run. The Packers are going to have their hands full. The Colts held the Titans' Derrick Henry, at the time the NFL's leading rusher to 68 yards last week when they took over first place in the division with the win in Tennessee. I'm sure Michigan Sports Betting, now live, will have some action on two teams from neighboring states. The Colts are currently 2-point favorites.
Last year the Packers lost to the 49ers twice, who had the number two defense in the NFL. They did beat two other top ten defensive teams, the Bears twice, who finished eighth, and the Cowboys, who finished ninth. The Packers own the Bears, so I don't put much stock in those games. The Cowboys may have finished in the top ten but that is probably more a byproduct of playing the Giants and Redskins twice each.
This year the Packers lost to number seven Tampa Bay, but did beat number three New Orleans. Frankly, I didn't realize the Saints were that good.
The Colts are a different beast in that the Packers only face them once every four years. A lot changes in the NFL from year to year so four years is an eternity. Not many players from either team were around for that the last meeting in 2016. For sure the coaches weren't.
The Packers are going to need some help from their own defense to win this game. It will be a little tougher this week with Philip Rivers at quarterback. The Colts don't have a stud running back so if the Packers can force Rivers to pass more they'll have a good chance to grab an interception or two as Rivers has proven interception prone the last couple of years.
I have to think about this one a bit before I make my prediction.