"It's the same old story, same old song and dance, my friend" – Aerosmith 1974.
It is becoming increasingly difficult to watch the Green Bay Packers waste another Hall of Fame quarterback's career. Everyone of us knows exactly how this season is going to end. The Packers will make the playoffs, probably win the division. They will beat a creampuff in the opening round of the watered down playoffs and then get their asses handed to them when they face a real team. Same thing every year it seems.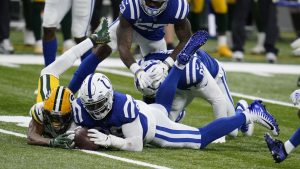 The reason is also the same as it always is, the Packers do not have a quality defense. It's not a surprise that the three times in the last 25 years that they did have a quality defense, they went to the Super Bowl, winning two of them. I just can't believe how inept this franchise is when it comes to building an all-around team. Almost every year the offense is good enough to win it all, and almost every year the defense fails them. Why can this not get fixed?
When the Colts ran the ball eight straight plays to start the second half and breezed through the Packers' defense, you pretty much knew it was game over. The Colts did something the Packers never do, they made halftime adjustments. The Packers were thoroughly out-coached in this one. Particularly on defense, but on offense and special teams, too.
I mean, it's really sad when you are so bad at returning kickoffs that your opponent WANTS you to return it. Talk about a slap in the face to special teams coach Shawn Mennenga. And on offense Matt LaFleur had one of his worst games. First and foremost was the playing calling on short yardage. Why is it that the Packers worst down is third-and-one?
Another mistake in my opinion was not going for the win at the end of regulation. You are on the road and haven't moved the ball a lick in the second half and the defense is gassed, why would you want to go to overtime? The clock was stopped after the third down incompletion so it wasn't a rush-rush situation. In fact, that should have been the mindset anyway the second they got a first and goal. Even with their short yardage woes, I like those chances to win better than overtime.
I sure hope it angers the Packers to a big victory over the Bears next Sunday night. A win by Chicago would take a serious bite out the Packers supposed cakewalk to the division title. If the Packers let that offense shred their defense, heads gotta roll.