The Green Bay Packers face off with the Chicago Bears Sunday night in a key NFC North Division game. A win by Green Bay would give the Packers a three game lead with five to play and at least a split with the Bears in the division. While the Bears are not as good as their 5-5 record, the case can be made the Packers aren't as good as their 7-3 record. It should be an interesting match-up of strengths, the Packers' offense versus the Bears' defense.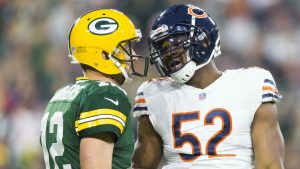 After a 4-0 start the Packers have gone 3-3 the last six weeks and look very much like the .500 team they are over that time. If the Packers win Sunday night they will only need to win three of their last five games to win the division. The best the Bears, Vikings or Lions can do is win 10 games. I bet when you look at the markets, the Packers will be prohibitive favorites to take the division title. Myself, I'm not so sure just yet. However, it appears most of the country disagrees, with their odds shortening on the different US markets that are available, it shows that many do expect the Packers to take the division title.
A loss Sunday night and everything is up in the air. The Bears have the Lions, Texans, Vikings and Jaguars before facing the Packers in Chicago to close the season. All winnable games, even for the Bears. The Packers have the Eagles, Lions, Panthers and Titans before the Bears. The Titans will present a formidable challenge but the other three should all be wins. If so it could all come down to that final game.
The Packers would lose a tiebreaker with the Bears if they both finish 11-5. They would, however, win the tiebreaker if both finish 10-6. The Packers need to get the Bears to six losses right away. Put the pressure on them and maybe they choke against one of those patsies and give the Packers some breathing room. Based on what we have seen this season, anything is possible. You never know who is going to suit up from week to week.
The Vikings would win a tiebreaker with the Packers if they both finish 10-6, but the Vikings have by far the hardest schedule with trips to Tampa Bay and New Orleans remaining. I think it is a two team race. And that race starts in earnest Sunday night.