The Green Bay Packers are 8-3 and the Philadelphia Eagles are 3-7-1. This should be a cakewalk, right? It may very well be another easy win for the Packers, but there are areas the Eagles match up well against the Packers and could easily make this a close game. And we all know that you don't like to let bad teams hang around, a fluke TD or something and you end up losing. The Packers almost lost that way to the Jaguars a few weeks ago, so anything is possible.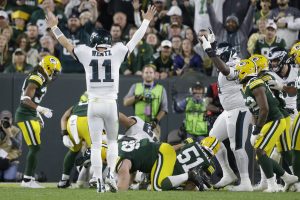 The Eagles beat the Packers 34-27 last year in Lambeau Field on their way to winning the NFC East with a 9-7 record. Even with only three wins this year they are only a half-game out of the division lead. All NFC East teams probably feel that if they can just make a little run they'll pull away in the division. The Eagles have the 8th ranked defense and are tough to pass on, despite only having only three interceptions. The reason they are so good is they have 36 sacks, second in the league and 12 more than the Packers.
The Packers are nine-point favorites so the betting public isn't giving the Eagles much of a chance. If you are looking there are many sites here that might have a better number. The Packers were 14-point favorites before sneaking out that 24-20 win over the Jags, just saying.
What worries me most is that while the Eagles have the 28th ranked offense they are able to rush the ball a little, ranking 13th. Running back Miles Sanders averages 5.6 yards per attempt and we all know how bad the Packers are at stopping the run. I'm guessing the Eagles may just feed Sanders until the Packers stop him.
The absolute key to the game in my opinion is how the Packers' offensive line handles that ferocious pass rush of the Eagles. The last time the Packers faced a pass rush like that the Tampa Bay Buccaneers ate them up. Complicating things is center Corey Linsley was put on IR this week. So it looks like Elgton Jenkins will get the start and center and Jon Runyan Jr. at guard.
So I think if Aaron Rodgers stays relatively clean, the Packers should win with little problem. But I also think the Eagles kind of match up well against the Packers and will keep it close. Of course I thought that last week with the Bears, too. Nonetheless, Packers 26, Eagles 19.