The Green Bay Packers and the NFL have made it through 13 weeks. Here are a few random thoughts on what we have seen and what may be ahead.
Pandemic – First of all I have to say I am very impressed with the way the NFL, and especially the Packers have handled the pandemic. We knew there would be outbreaks, but to not have missed a week thus far is amazing. There is a long way to go but confidence is high that they might actually pull this thing off.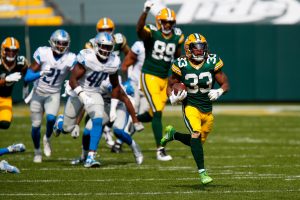 Aaron Jones – I don't know what the Packers are waiting for with Aaron Jones. They need to get this guy under contract before the end of the season. This dude is a special player in this offense and would be very hard to replace in my opinion. Having a dynamic back like Jones is the key to this offense. It has allowed quarterback Aaron Rodgers to return to his MVP form even though he really has only one bona fide receiver. As much as I love him, though, I don't think he would be as good in another team's offense. It would have to be similar to what the Packers do and there aren't a lot of those yet. Better for both sides to get a deal done now.
The Packers are coming together at the right time and are once again are in the favorite talk to win the Super Bowl. You might not want to wait too long to get good odds on that. Check out the safest betting sites and make a little dough when the Packers win it all.
Davante Adams – This season Adams has taken his game to even another level. To me he is looking more and more like Sterling Sharpe every game. He has such a great release and combined with his route running he's almost always open. But he's also super physical like Sharpe was. He can catch the ball in traffic without fear and take the hit if need be. But I really like the way he moves once he gets the ball. So many times he uses that first move after he catches it to either push his defender away or juke him out of his shoes. Just like he did to Darius Slay Jr. on Rodgers 400th touchdown pass. He's going to have historic numbers if this keeps up the last four weeks.
Playoffs – Call me scared if you want to, I won't deny it. I am scared to death of seeing the Vikings in the playoffs. And whether the Packers get the number one or two seed, there is a very good chance they will play the Vikings a third time. All because of the expanded playoffs that have seven teams making it now. The Vikings will likely get in with the last seed with an 8-8 record. The Vikings only real competition for that spot is Arizona. Color me a huge Cardinal fan the last four weeks.