The Green Bay Packers successfully defended their NFC North championship by beating the Detroit Lions yesterday. Thanks to down years by the Lions, Bears and Vikings the Packers breezed to their second division title in as many years under head coach Matt LaFleur. But judging by the atmosphere in the locker room after the game, it was an expected step on the way to something much bigger.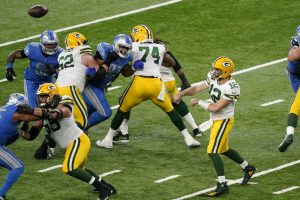 Under quarterback Aaron Rodgers the Packers have been to four NFC Championship games, none of them in Green Bay. The Packers lost three of those games and the one they did win was in their other home field, Chicago. While getting one of those games in Green Bay does not guarantee victory, it sure would be nice to at least try it once with Rodgers at the helm. The last one in Green Bay was after the 2007 season when the Packers lost to the Giants in two degree weather. Before that you have to go back to the 1996 season.
This year's team has the best chance in years to grab the number one spot. For the first time in what seems forever they actually own the tiebreaker over their top competition. Just win three games and all roads lead to Lambeau. They could get the number one seed at 12-4 if the loss is to Tennessee and the Saints lose another game. The Saints play the Chiefs Sunday.
Against the Lions the Packers did what good teams do. They withstood the Lions best shot in the first half and battled to a 14-14 tie. But thanks to winning the coin toss the Packers had the ball to start the second half and they took full advantage. The Packers used nine minutes of clock on a 14-play drive to take the lead 21-14. After a quick three-and-out by the Lions they did it again and just like that it was 28-14 in the fourth quarter.
The Lions did add a TD and after a 57-yard field goal from Mason Crosby made it a two score game again, got a long kickoff return and a field goal for the final margin. I think it was an excellent game for the Packers' defense. They did exactly what they had to do in the second half after the Packers long opening drive. Get a three and out there and it's almost a given the offense will score again. The Lions' defense was gassed and had to go right back on the field. Rodgers ate them up.
The defense is coming around, if they keep trending in the right direction the Packers could very well be the best team in the NFC. They have three games to cement that.