The Green Bay Packers suffered yet another painful loss in the NFC Championship game yesterday and like the others, the overreaction knows no bounds. Everybody and their uncle is already saying Aaron Rodgers has played his last game for the Packers. Let's get that out of the way right away, Rodgers ain't going anywhere.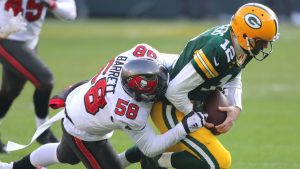 Yes, after 18 weeks of being the new and improved Aaron Rodgers, his "attitude of gratitude" suddenly deserted him in the post game presser. Cracks me up. Everything was all hunky-dory when the Packers were winning but now after one big loss he's back to being a jerk? That is probably why he has only won one Super Bowl and why it was earlier in his career, before he went Hollywood. Unless somebody throws the Packers three or four first round picks Rodgers is staying in Green Bay whether he likes it or not.
The Packers odds to win the Super Bowl are always better with Rodgers. For some of the action check out the best online casinos in Latvia at www.topspeles.com!
Rodgers wasn't horrible in the game, although his interception before the half was a pass that never should have been thrown and cost the Packers' dearly. The problem is, when they needed him to be Superman he wasn't capable. He hasn't made a big throw in a playoff game since hitting Greg Jennings to seal the Super Bowl 10 years ago. He did play well enough for the Packers to win the game, though. Here are my takes on the loss.
Head coach Matt LaFleur had a bad day, he was the first to admit it. It started with the coin flip. The Packers won the toss and LaFleur gave the ball to a six time Super Bowl champion instead of his own offense, which scored on their first possession 13 times this year. Dumb. Then he goes for two points to try and get within three points in the third quarter. The Packers never make two point conversions and you knew the Patriots were not done scoring. Kick the damn extra point and it changes everything on that last drive. You don't have that pending two point conversion hanging over your head, it's like you have to score twice.
Ahh, that last drive. LaFleur saved his worst for last. Even though Rodgers had three horrible attempts at a touchdown from the 8-yard line, you can't take the ball out of his hands. Call a time out and draw up a play in the dirt if you have to. To ask your defense to stop Brady from getting one first down is just plain stupid, he can do that in his sleep. LaFleur is a young head coach who has less NFL experience than his quarterback does. He lost to a coach with 30 years of NFL experience. Hopefully he learns from this and I think he will.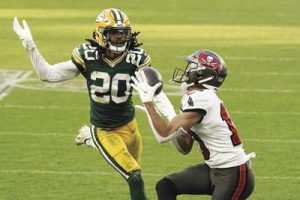 One thing LaFleur will have to think long and hard about is who runs his defense. Not being in a three deep zone on that last play of the first half is a fire-able offense for a defensive coordinator in the NFL. Just ask Gregg Williams. I think it is time for a change.
Special teams are another area that has to be better if the Packers are to get past this game. Yesterday was a joke again. Long returns by the opponent and no returns by the Packers. Mason Crosby apparently can't kick the ball out of the end zone anymore. I mean, if they were trying to setup a return they are dumber than a box of rocks considering the Packers' piss-poor coverage units.
Finally, even after fumbling twice yesterday, the Packers need get running back Aaron Jones back by hook or by crook. Not having him as an option on that last series was huge, dude is a touchdown machine. They can certainly save money by not signing Kevin King, who had as bad a day as anybody can have at cornerback. He gave up two touchdown passes and official game ending pass interference penalty. That pick will forever sting Packers fans.
It was an overall great year for the Packers. I'll take 13-3 and a bye week every year. Keep giving yourself at bats, eventually you'll get a hit. It will not shock me one bit if the Packers return to the championship game again next year. They just need to add a few pieces on on defense, keep Jones, and maybe a few tweaks like finding a true backup left tackle.
Confidence remains high.