Going into the 2020 NFL season wide receiver was easily the biggest question mark on offense. 18 games later and another NFC Championship loss and not much has changed. Outside of Davante Adams, the Packers did not get much individual production from their other receivers.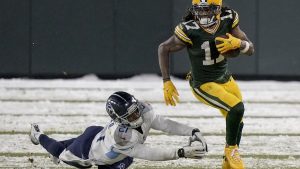 After Adams' 115 receptions you have tight end Robert Tonyan with 52 and running back Aaron Jones with 47. The next highest receiver was Marquez Valdes-Scantling and Allen Lazard with 33 receptions each. It's just mind-boggling that the team's leading receiver had 63 more receptions than the next guy. That is simply not sustainable. What is sustainable is this BetMGM Bonus code. Use it for sports betting, online casino, or online poker to get special registration offers.
Free agent help
The Packers tried to get Adams some help with the signing of free agent Devin Funchess, but he opted out before training camp. Not a huge splash but he was a reliable pro who would have been a factor in the offense I think. The draft was where everybody expected the Packers to find a wideout, but we all know how that played out.
If the Packers are going to go that route again the pool of free agent wide receivers isn't exactly earth shattering. Maybe a guy like Marvin Jones or Corey Davis could provide an upgrade. I can't see the Packers breaking the bank on a guy like Will Fuller or Allen Robinson. One can dream I guess.
Who's left?
Of the returning talent Valdes-Scantling has by far the biggest upside. Once he learns how to catch he is going to be a force. He has one year left to prove he can make that step, for some reason I like his chances. Lazard is a free agent but I think it's likely he'll be back at a low cost. His breakout year got derailed by a core injury early on and he never really returned to form.
Malik Taylor is a free agent and Equanimeous St. Brown is basically training camp fodder at this point. They are the only other receivers who caught a pass last year. So most definitely, wide receiver is a position of need again for the Packers this offseason. Hope they have better luck this go around.