The Green Bay Packers finally have one of the best running backs in the league, in an offense that is based on the run, yet find themselves with a huge dilemma. Should they ante up and keep their star running back, Aaron Jones, or let him walk and turn the reigns over to unproven A.J. Dillon?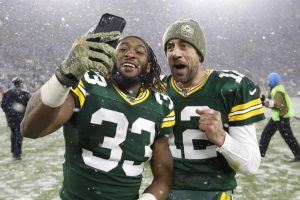 Tuesday teams can begin applying the league's franchise tags to players and the Packers would be wise to tag Jones if you ask me. OTC has the tag set at $11,112,000. That doesn't seem unbearable to absorb for the straw that stirs the drink. The Packers have until March 9 to apply the tag. With no tag or new deal by then Jones is gone. The Packers odds to win the Super Bowl won't be gone, but I'm guessing sites like OlyBet will show some significant movement if Jones leaves. Might be an opportunity there to make a few bucks.
According to spotrac Jones will have a market value of $14.6 million. The Packers likely won't go that high so then what do they do? There are some options out there now and likely will be a lot more in the coming weeks as team's purge their salary caps. And since the Packers already have Dillon they won't be looking to sign a lead dog. A lot may depend on the status of Jamaal Williams as well, who is also a free agent.
In the event both Williams and Jones leave the Packers could look at guys like Todd Gurley or James White to be the No.2 to Dillon. Maybe even James Conner or Gus Edwards? A couple of other intriguing guys who will likely be released soon are Latavius Murray and Duke Johnson. Either one of them could be fill that second spot.
I'm guessing we'll see another running back drafted this year to fill the third string spot. Much like Dillon did this year. Probably won't be a high pick, though.
It has to be killing head coach Matt LaFleur just thinking about the possibility of losing Jones. With Jones, wide receiver Davante Adams and quarterback MVP Aaron Rodgers, his offense has a superstar at every level. Preparing the offense for Dillon will certainly be different than it was with Jones. Maybe not drastically, but different.
Let's see what happens, but there may be a whole new look behind Rodgers next year.