Well, it turns out the "foreseeable future" Brian Gutekunst talked about Tuesday lasted all of two days. Aaron Rodgers has told the Packers he is not coming back this year, "trade or no trade". Ask anybody who has been in a relationship, once one side wants out, it's pretty much over. The Packers need to accept that and cut this cancer out of their locker room and move on with their lives.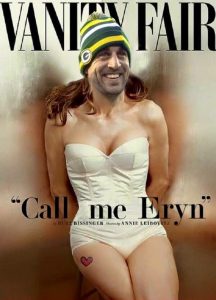 Every year it is the same thing with this guy. "You don't love me enough". It's incredibly childish behavior for a guy people say is so smart. He's really just another privileged athlete who thinks the world revolves around him and only him. I got news for ya, honey, it don't! Drive by any cemetery and take a look at all the graves markers. A lot of those people thought they were irreplaceable, too. Yet low and behold, life goes on.
Life for the Green Bay Packers will move on as well. I believe Gutekunst could read between the lines and and that is why he drafted Jordan Love last year. I bet he was hoping to get two years out of Rodgers before he melted down, but it looks like he only got one. Oh well, too bad, so sad. It's Love time in Green Bay, and I'll be more than happy to throw some his way when he gets out there.
Go Pack!