The Green Bay Packers have long been known for drafting the best available player. This year it was best available player at a position of need. The Packers needed a starting cornerback. Check. They needed offensive line depth. Check. They needed a slot receiver/jet sweep type guy. Check. Defensive line and linebacker. Check and Check. Now if only we knew for sure that all these guys could play.
General manager Brian Gutekunst stuck to his game plan. He did not let the Eryn Rodgers hissy fit distract him from doing what he was hired to do, make the Green Bay Packers better. I believe he did just that. In a normal year, these additions would have the Packers with some of the best odds to win the Super Bowl. But now, with Rodgers' uncertain future, even your best NFL betting guide is probably scrambling to make sense of things. If you have any inside info, you should take advantage.
First three picks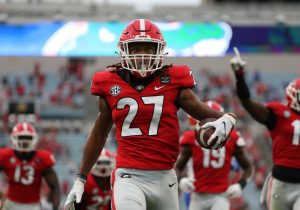 I really like the Packers fist three picks. Cornerback Eric Stokes, center Josh Myers, and wide receiver Amari Rodgers should all make immediate impacts on the team. Can easily see Stokes and Myers starting this year. Stokes is insanely fast, which is exactly what the Packers need opposite Jaire Alexander.
Myers can play center or guard but I'm guessing he will get every opportunity to replace All-Pro Corey Linsley. He will certainly be in competition for a starting spot on the line. He is a long time starter from a top program and played in a lot of big games. The move to the NFL is almost a lateral move for a guy like him.
The guy lay fans like myself will likely be most excited to see will obviously be the guy with the ball in his hands. Rodgers will most definitely be part of the Packers offense this year. I think head coach Matt LaFluer is already writing up plays for this dude. Rodgers tore his ACL in 2019 and they usually say you aren't 100% until two years later. If that is the case he should be even more explosive than he was last year for Clemson.
Best of the rest
I like all of the Packers Day 3 picks. Royce Newman might have a chance to start at right tackle, the Packers don't currently have one. I am also intrigued by Shemar Jean-Charles, the CB from Appalachian State. I like seniors and guys who have started a lot of games, he fits both of this bills.
One would have to think offensive lineman Cole Van Lanen of Wisconsin will be in the mix to make the team. Wisconsin is known for churning out offensive lineman. The Packers also signed fellow Badger Jon Dietzen as an undrafted free agent.
T.J Slaton adds depth to the defensive line and Isaiah McDuffie the same for the inside linebacker group.The Packers even addressed the running back room with Kylin Hill from Mississippi State with their last pick. Some think he could be a steal.
Overall, I give them an A.