As the Aaron Rodgers drama rolls on, we still don't know exactly what it is that Sharon wants. Does he want a new contract? Does he want general manager Brian Gutekunst fired? Does he want Mark Murphy to step down? No one knows but she. But I'm here to tell you Gutekunkst will not be fired for any reason.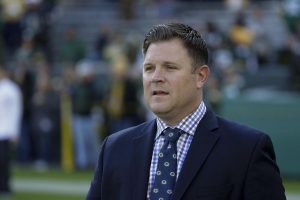 Gutekunst has taken over a floundering franchise that had a coach that overstayed his welcome and a roster that was devoid of talent. Like Mike McCarthy, former general manager Ted Thompson also stayed past his prime. You know the old adage that it's better to get rid of a player a year too soon as opposed to a year too late. I think that applies to the head coach and GM, too. The Packers went 7-9 in 2017 and were 4-7-1 when McCarthy got fired the next year. Quite the mess to clean up.
But thanks to Gutekunst the Packers have quickly restocked the roster and are again Super Bowl contenders and among the betting favorites once again. Sports betting is legal in many states now, Arizona Casinos is a good place to check out what it means for not only Arizona, but for your state as well.
It started with the draft
Gutekunst has now overseen four NFL drafts. His first pick, cornerback Jaire Alexander in 2018 is a three-year starter with two Pro Bowls and is one of the best corners in the league. That dude is going to get some serious dough in the next 12 months. His next first-round pick, LB Rashan Gary is a star in the making. Many expect him to become that star this year.
For Gutenkunst's next two first round picks, the jury is still out. Obviously Eric Stokes was just taken two months ago, but his first impression was a good one. And of course that brings us to Jordan Love, the pick that clearly will define the career of one Brian Gutekunst. And we may get the results of that pick sooner, rather than later.
Elsewhere he has added starters in WR Marquez Valdez-Scantling, S Darnell Savage Jr., G Elgton Jenkins and DL Kingsley Keke. Other regular contributors are guys like LS Hunter Bradley, LB Oren Burks, LB Ty Summers, CB Ka'dar Hollman, TE Jace Sternberger, G Jon Runyan, LB Kamal Martin and the best of the non-starters, running back AJ Dillon.
Throw in free agent signings of Za'Darius Smith, Preston Smith, Adrian Amos, and many other solid bit players, and you have a pretty solid roster. One that was good enough to be the number one seed in the playoffs last year.
So much to Eryn's chagrin, Gutekunst isn't going anywhere.