I often wonder what a team official could say to a sports reporter that is so bad it makes such reporter hold a grudge against the team. For years there was speculation as to why former Milwaukee Journal-Sentinel reporter Bob McGinn couldn't write an article without ripping the Packers a new one. Most believe it was because the late Ted Thompson. Thompson was about as tight-lipped with the media as anybody can be in the NFL and apparently McGinn didn't like that. So he ripped him every chance he could, many times going well out of his way to do so.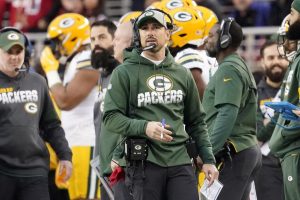 Today McGinn seems to have been replaced by CBS Sports' Jason La Canfora, who came up with another doozy this week. The woefully under-informed scribe has Packers head coach Matt LaFleur on his list of coaches on the hot seat. His reasoning is the Packers are doomed to fail without Aaron Rodgers and LaFleur will be the scapegoat because he is an outsider. I read dumb shit every day from these guys but this one takes the cake. Hear me now and believe me later, there is no coach in the NFL that has more job security than one Matt LaFleur. Bill Belichick included.
The Packers are always one of the most popular teams in the league, so you can usually get good odds on their games. Check out the best usa real money casino to see what is available. Might be a good time to jump in.
Murphy led the search
The thing La Canfora doesn't understand is LaFleur is pretty much Mark Murphy's hand-picked choice as head coach. Yeah, general manager Brian Gutekunst had input, of course he did. But in the end Murphy had the final say. I do think both Gutekunst and Murphy were both on board with the hire. In fact, I think they had this exact situation in mind when hiring LaFleur. They needed a young coach to pair with the young QB they were going to take at some point to replace Rodgers. Hell, Gutekunst may have already had his eyes on Jordan Love.
This whole thing could not have worked out better for the Packers. LaFleur dragged Rodgers back from the depths of hell and proved to be a winning coach right from the get go. He earned the players trust and if he says they can win with Love, then they will win with Love.
Nope, LaFleur isn't going anywhere. In fact I think the Packers will be just as good, if not better, with Love at the helm. And I'm not alone in thinking they will at least win the NFC North again. If only more NFL journalists actually knew what they were talking about. It would be nice to have one you could trust.